Pastebot is a beautifully designed, tactile pleasure that brings the power of a clipboard manager to your iPhone or iPod touch. Tapbots' $3 app is simple to use. Copy (or cut) a text snippet, photo, URL, or anything of your choosing from within any iPhone app and then open PasteBot. As soon as the app opens, it imports your clipboard data and stores it in PasteBot for later use.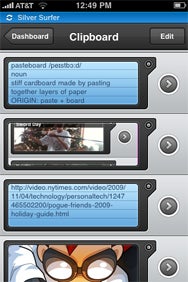 Once the importing's done, PasteBot offers you several options. You can organize your clippings into folders—the app's default folder can only hold 99 clippings, but you can store an unlimited number of clippings in the folders you create. Tapping any clipping in any folder automatically loads it into the iPhone's clipboard and reveals a small menu, which contains Action and Filters menus as well as a small information window. Tapping a text clipping's information window displays character and word counts and the date the clipping was created; a photo's information window displays its creation date and the size of the selected image. Pastebot also offers a high level of intelligence when it comes to what it will or won't import. If the item you've copied is exactly the same as something Pastebot already has stored, the app won't re-import the clipping.
What appears when you tap the Action menu varies depending on what your clipping is. Tapping an image offers you the option to save it to your photo library, e-mail it, or move it to a different folder. Tapping a text clipping offers the option to search for the text via Google as well as the e-mail and folder options. Alternatively, install the free Pastebot Sync application on your Mac, and you'll be given the option to paste anything from Pastebot to any application on your Mac and have anything you cut or copy on your Mac be automatically pasted into Pastebot.
For me, this syncing capability ends up being one of Pastebot's hidden killer features. Open Pastebot on your iPhone or iPod touch and cruise your Mac, the Web, or any other application copying and cutting everything you want to keep, and Pastebot sucks it all in like a high-tech vacuum cleaner. This, is a very nice feature that's far less expensive than any of the full-on clipboard apps you'll find for your Mac.
Tapping Pastebot's Filters menu allows you to make changes to images, such as adjusting the brightness, changing saturation levels, or converting the image to black and white. If your selected clipping is text, the Filters menu lets you make changes to the text, like finding and replacing text, converting your text to upper or lowercase letters, adding HTML tags, or smartening or straightening your quotes.
While it's a great app, Pastebot isn't perfect: it's hamstrung by the limitations Apple puts on applications running in the background of your mobile device. Because Pastebot can't monitor and import everything that's being copied to the clipboard, you'll find yourself playing a game of iPhone hopscotch as you continuously bounce between Pastebot and the different apps from which you're copying information or images. Also, while Pastebot was quite capable when it came to copying images and text from my Mac, copying files other than images in the Finder proved problematic—Pastebot only copied a PNG image of the icon and not the actual file.
Short of those small complaints, Pastebot is now one of my favorite iPhone apps and one that deserves a place of prominence on your iPhone's home screen.
[Jeffery Battersby is an IT Consultant, (very) smalltime actor, and regular contributor to Macworld. He writes about Macs and more at his blog.]