Aardvark Mobile proves that sometimes it pays to be patient with iPhone and iPod touch apps. After a middling start, a few updates have turned this app into a useful tool for tracking down information.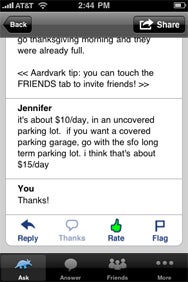 The app debuted last September as a mobile version of the Aardvark question-and-answer Web service, which specializes in subjective searches. Google and other search engines may be well and good for looking up information on general subjects. But for very specific questions—"Where's an affordable place to stay in Kauai?" for example, or "Does anyone know any good Thai restaurants in Silicon Valley?"—most search engines come up short. Using Aardvark—whether it's the Web site or the mobile app—you can pose those kinds of specific questions to a network of Facebook friends, Twitter followers, and Gmail contacts.
Or, to be more specific, you can have Aardvark pose the question. Just type what you're looking for into the iPhone app, assign it a category, and hit send. Aardvark sends out the question to your contacts and, by extension, their contacts, so that a wide network of people can weigh in on where to find sandbags or how to make biscuits from scratch. The iPhone app notifies you via push notification when it's found an answer—usually, you'll get a response within five minutes of posing a question. The folks behind Aardvark handle all the interactions, so there's no risk of you being pestered by strangers for answers at all times of the day.
I've been using Aardvark Mobile since it arrived on the App Store in September, and the service certainly works as advertised. However, the initial release of the app left a lot to be desired. If I were to make a laundry list of complaints about that 1.0 version, it would be that the app only allowed you to type in portrait mode, stored your questions and answers in perpetuity with no way to delete them, and provided no way to rate the answers or advice you received.
Other users must have had those complaints as well, because developer Vark.com rolled out a pair of updates in December that tackled all those complaints. Like typing in landscape mode? Aardvark added support for that in version 1.1. Want to pare down your question and answer history to remove some of the clutter? You can now have the option of deleting what Aardvark calls "conversations," so that the time you told that guy in Pennsylvania which four American Basketball Association teams merged with the NBA in the '70s no longer needs to stay on your iPhone for the rest of recorded history. Also, Aardvark Mobile now offers sharing features, which let you e-mail questions-and-answers, post them to Facebook, or copy the URL.
By far the most valuable addition to Aardvark Mobile has been the ability to rate answers you get from your fellow Aardvark users. When you get a reply to one of your questions, you can tap a Rate icon that asks you to say whether the answer was helpful—your options are "Yes," "Kind of, but not for me," and "No." The only downside to this addition: It doesn't seem to have any impact on the Aardvark service. I would love to be able to tell if the people answering my questions have a proven track record of sound advice, but there's no indication of their street cred when their answers pop up on my iPhone. Perusing my own account at Vark.com, I can't find any indication that other users have ever rated my answers as helpful. (I, of course, refuse to acknowledge the possibility that they weren't.)
And that's a central limitation to Aardvark Mobile or indeed any crowd-sourced application or service—the information you get is only as good as what's offered by the people using the service. I used the app to help me plan a trip to London, and while responses to my question about affordable hotel rooms produced some helpful advice, a response to a question about getting my hands on tickets to a Premiership match couldn't have been less helpful if it was written in a language that only the author understood. The problem is, Aardvark treats the person who tipped me off to an inexpensive hotel room the same as the person who rambled nonsensically about obtaining Fulham tickets. It seems that Aardvark Mobile could do a better job of taking those recently added answer ratings into account so that I can easily see who's got a track record of giving good advice.
Given Aardvark Mobile's track record for integrating needed changes, I have every confidence that this app will continue to evolve. For now, Aardvark Mobile is a helpful way to track down information, so long as you're willing to accept its limitations.
[Macworld.com executive editor Philip Michaels believes in the wisdom of crowds depending, on who's in the crowd.]