I guess most people don't really punch a physical clock anymore, but if you're a business owner who needs an up-to-date way to track your employees, the newly released Virtual Time Clock '10 might help you manage their time and attendance.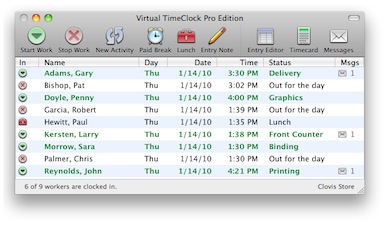 Redcort Software says the application can be used by small business as well as those with thousands of employees. The software comes in three flavors to accommodate businesses of various sizes; there are Basic, Pro, and Network editions.
In all three, your staff are visible in the time clock's main window. The database keeps a record of their time, allowing you to create detailed timecards, manage leave time, and determine overtime pay. The 2010 version of Virtual Time Clock now includes unpaid leave and lunch tracking as well as an enhanced report writer.
The Basic edition of the software allows employees to clock in and out from a central computer. The Network edition lets them do so on their own machines. The Pro and Network editions both offer custom leave categories, databases for multiple companies, and built-in worker messaging. These two versions also let you create employee profiles and employee groups.
The Basic edition of Virtual Time Clock '10 runs $100 and allows tracking of three employees. The Pro version is $195 and lets you track an unlimited number of people. The Network version is $295 plus $50 for each extra client. All versions of the software require Mac OS X 10.3 or better.