Last week, in this very blog, Macworld reviewed NBA League Pass Mobile, a fine offering from MobiTV that lets dedicated basketball fans watch almost any NBA give on their iPhone or iPod touch. Perhaps you were intrigued by the possibility of watching live games and viewing full replays on your mobile device, but because your love of hoops is matched only by your frugality, you balked at the app's $40 price tag.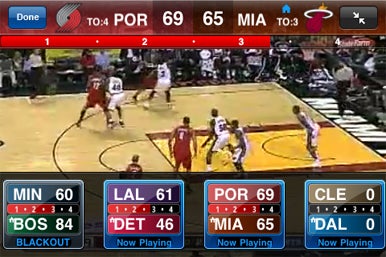 MobiTV made a move to make its app more appealing, especially with nearly half of the NBA season in the bag. The developer cut the price of NBA League Pass Mobile to $20.
Even more interesting, there's now a free version of the app to let you try things out before you part with any cash. NBA League Pass Mobile Lite lets you watch live games and replays just like in the paid version, but only through January 24. After that, you'll be prompted to upgrade; otherwise the lite app will feature live scores and stats, but no video. Whether you eventually pony up the $20 for the full app or not, the lite version of NBA League Pass Mobile sounds like a great way to get mobile basketball action for the rest of this week.
MobiTV also updated NBA League Pass Mobile, responding to some user requests. You can now view NBA standings by tapping the More button at the bottom of the screen. And League Pass now includes stats for past games, which you can find within the app's Schedule section.