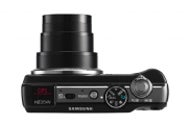 Samsung on Monday announced five new point-and-shoot cameras, including two models that look to be solid additions to the pocket megazoom category—both in terms of optical zoom range and in-camera features.
Pocket Megazooms: Samsung HZ35W and HZ30W
The 12-megapixel HZ35W is the luxury sedan of the bunch, offering a 15x optical zoom range (24mm to 360mm) despite being only a bit more than an inch deep. Along with a 3-inch AMOLED screen and 720p HD video capture at 30fps, the new pocket megazoom has a geotagging feature that uses on-board GPS to embed location data in images.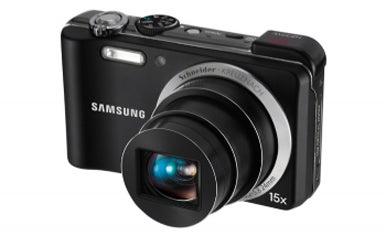 Samsung says the HZ35W tags photos with the name of the city and country, not just the longitude and latitude of the shot; it also includes in-camera software for displaying saved images on a map interface.
The HZ35W is one of two new 15x-optical-zoom pocket cameras. The similar HZ30W shares the same megapixel count and zoom lens, but with two major differences: it doesn't offer the GPS capabilities, and it has a 3-inch LCD display instead of an AMOLED screen. Both cameras will offer dual optical/digital image stabilization.
While the geotagging features are an attractive prospect for frequent travelers and gadget hounds, both new pocket zooms have some in-camera settings that will appeal more to veteran photographers: manual controls such as aperture priority and shutter priority.
The 15x zoom ranges on both models put them at the head of the pack in terms of pocketable optics; in 2009, Canon's PowerShot SX200 IS and Panasonic's Lumix DMC-ZS3 both served up 12x optical zoom lenses. Pricing has yet to be announced, but the HZ35W and HZ30W will both be available in March.
New Ultracompacts: Samsung TL110, TL105, and SL630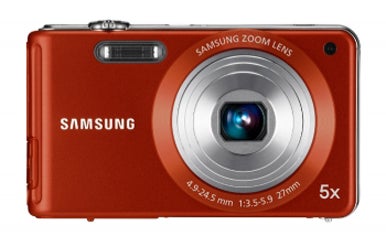 Along with the pocket megazooms come three lower-end Samsung cameras.
The 14-megapixel TL110 is a 5x optical zoom (27mm to 135mm) camera with dual image stabilization in a 0.65-inch-deep frame; a 2.7-inch LCD, motion-tracking autofocus, and 720p HD video recording round out its key specs.
The similar TL105 lacks the dual image stabilization and the motion-tracking feature of the TL110, offering a 12-megapixel sensor, a 4x optical zoom (27.5mm to 110mm) lens, 720p video capture, and many of the same automated in-camera features as the TL110. Both TL series cameras are slated for February release.
Rounding out the recent announcements is the SL630, a 12-megapixel camera with a 5x optical zoom lens (28mm to 140mm), dual image stabilization, a 2.7-inch LCD screen, and standard-definition 640-by-480 video capture at 30fps.
The SL630 is due in March.