TextTwist 2, a $1 game from RealArcade, is a welcome change of pace from its awful predecessor. It's more faithful to the original Web-based game and thankfully lacks the onslaught of unnecessary animations and interruption—making it far less annoying to play.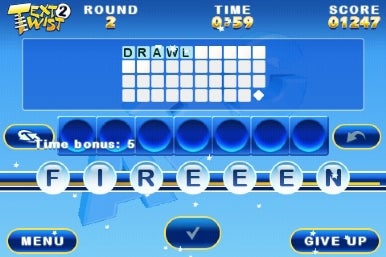 At its core, TextTwist 2 is a jumble game: You're presented with a batch of letters, and need to find all the words that those letters can form. While TextTwist Turbo for iPhone lacked a two-minute timer, this sequel restores the original Web game's challenging time constraints. The timer adds a necessary sense of pressure and challenge to the game, and I heartily welcome its return. If you prefer your text games without a race against the clock, though, you can always choose the untimed mode instead.
While the timer's return is welcomed, I still feel the iPhone's screen isn't perfectly suited to the game's presentation. When the letters in a given round can spell many words—which happens with some frequency—you're forced to scroll horizontally to review all the words you've already submitted. It's annoying, but doesn't render the game unplayable. Mercifully, it seems like someone at RealArcade understood the flimsy offerings of the original game; TextTwist 2 sports several other game modes that add interesting twists (ha!) to the game's original conceit.
In Letter Mania, you only need to find one word with each set of tiles; the letters you use are replaced with more. You need to find enough words whose total combined length meets a preset target, in a finite amount of time. The fast pace of the game makes it perfect for playing in quick bursts.
Lightning mode requires you to solve a series of longer words. Instead of finding all the words a batch of six letters can make, you need only to identify the full word that those letters can assemble. It's considerably tougher than Letter Mania, but certainly fun in its own right.
Daily Word mode, on the other hand, is a bit dopey: You're presented with that day's mix of letters, and need to find all the words within it. Once you do, the game ends. It's essentially a brief round of the regular timed version of the game—I'm not sure why you wouldn't just play the regular version instead. Your game progress is saved, so you can always continue building on your high score later if you get interrupted.
While TextTwist 2 is a major improvement over TextTwist Turbo, it does include some faults of its own. Occasionally, I was presented with exactly the same set of letters in one game—once, just two rounds apart. It's even easier to recognize that "YBLDOU" makes "DOUBLY" the second time you see it. Any complaints about TextTwist 2, however, feel pretty minor to me, after enduring the pervasive lousiness that characterized the first iPhone version. Word jumble enthusiasts will enjoy TextTwist 2, and Letter Mania and Lightning modes both add clever, quicker, and fun tweaks to the game that are well worth the low price of admission.
[ Lex Friedman can be rearranged to spell both "A Mind Reflex" and "Flan Remixed."]