Projects is a $7 project management app for iPhone from developer Thomas Blackburn. But this isn't a to-do list app by any stretch. Rather, you'll need to know what a Gantt chart is, or perhaps live as a Microsoft Project devotee to understand Projects.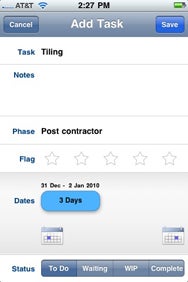 The sad truth, however, is that if you indeed are such an expert in the world of project management, you're more likely to be frustrated by the features Projects lacks than the ones it includes.
What Projects does well, it does very, very well. The colorful iconography is tastefully implemented, and an imperative in an app as visually-centric as this one. Creating new projects, phases, and individual tasks works just as you'd expect.
But as straightforward as the basic navigation is, you'll need to devote some considerable time to get comfortable with the app's interface. There's no inline tutorial to get you acclimated; instead, you'll want to take time to read through the developer's copious 'Getting Started' guide and FAQ. If you're not familiar with some of the core terminology in the discipline of project management, even the voluminous online help might not be enough.
Once you start creating real projects with genuine milestones, some of Projects's more glaring omissions will become increasingly apparent. Each task you create needs a minimum duration of one day, a frustrating annoyance that affects estimated completion dates when your project includes a few half-day tasks. Even so, the clever slider doohickey that you can use to set a task's start and end dates is pretty great: As you stretch it, you can adjust the date range from one day to one year. Yes, if you want to allocate six weeks and three days, you'll need to enter that manually, but as a shortcut for common date ranges, the slider makes a ton of sense.
Back to the unfortunate, though: A task can be "To-Do," "Waiting," "WiP" (Work in Progress), or "Complete." Project managers need nuance. If a task is 90 percent complete, that's significant and important to spot at a glance; the inability to update completion percentages strikes me as a massive oversight.
When you're looking at a project's list of tasks, you can rotate your iPhone to landscape mode to see a lovely Gantt chart. You can toggle the Gantt chart display in portrait mode too, but I found that entirely unusable: When you try to scroll horizontally through time on the chart, Projects assumes you're actually trying to swipe to delete tasks from your list, which can lead to very costly mistakes.
Another frustration: Marking a task as complete takes a minimum of five taps from start to finish, since you need to tap into the individual task, then click to edit it, then update the status, then save, and then back out again. A simpler means of updating the status for individual tasks would be much appreciated.
Projects does show other flashes of brilliance: The keyword search, which can optionally be filtered by task completion status, works perfectly. You can e-mail individual tasks, or export your data to Excel, MS Project, or PDF formats. And again, the parts of the app that work really look and feel great on the iPhone. But until some obvious weaknesses are addressed, it seems like the developer must address a lengthy to-do list before Projects can truly work for its target audience.
[ Lex Friedman is a frequent Macworld contributor.]