Gowalla is a new player in the location-based social networking field. (It's most often discussed in the same conversation as Foursquare.) Gowalla's motto is "Go out. Go Discover. Go share. Gowalla," and the app for the iPhone from Alamofire is designed to let you do just that.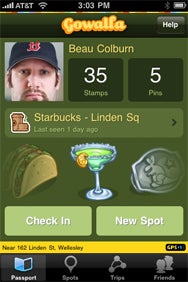 The basic idea behind Gowalla is to share your comings and goings with your friends—within Gowalla itself, or if you choose, on Twitter and Facebook as well—and to collect "Stamps" and prizes along the way. The app uses your iPhone's built-in GPS and Wi-Fi triangulation to determine your exact location. It will tell you if you are in or near a "Spot" that has already been created; if not, you can create one yourself.
What's a Spot? It's any place in the community—most often they're coffee shops, bars, restaurants, and retail stores.
Once you've selected a Spot, you can "check in." You're able to toggle the "Share with Twitter/Facebook" option each time you check in, which is convenient, as you may not always want to broadcast that information with a wider group. You can also add a comment before you post.
Every time you check in somewhere, your Gowalla passport gets stamped. As you check in more places, you will discover various items that are connected to venues—a margarita at a Mexican restaurant, a tour bus at a concert venue, and so forth. You are able to pick up new items when you find them, but you have to leave one of yours behind. The more you play, the more stamp and item-filled your passport becomes. It makes for a fun game as you watch items be picked up and dropped off by different people. Every city also has Featured Spots and Recommended Trips where you can explore on your own and try to find more unique items and stamps.
All of this relates to how you interact with Gowalla, but one of my favorite things about the Gowalla app is its actual design. The look and feel of the app is superb. You can immediately tell that this app has been designed with usability and style equally in mind. So much of the fun of Gowalla lies in discovering new items and getting new stamps on your passport, and these icons play a central role. Every item you pick up and stamp you receive has an impressive amount of detail and feel. The layout of the main areas of the app are thoughtful, and the scrolling and transitions are smooth and quick.
If you like the idea of trying a new trend in the mobile world, and you appreciate a really well designed app, you can have a lot of fun playing around with Gowalla.
[Macworld contributor Beau Colburn lives in Boston where tries to remember to check in as much as possible when he's out on the town.]