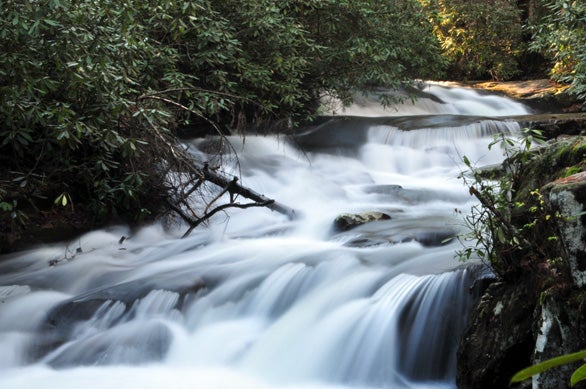 Reader Tim Sorrells captured this blurred image of a rushing stream with his Nikon D300S. The shot is of Wildcat Creek which cascades down the mountains of the Lake Burton Wildlife Management Area. It's located near Clarkesville, Ga in the northern portion of the Oconee National Forest.
Tim mounted his camera on a sturdy tripod (the Manfrotto 055XPROB), turned off the vibration reduction (VR) setting on his Nikkor 18-55 mm lens, and set the self-timer. He used a neutral density filter which acted as a shade, reducing the amount of light reaching the camera's sensor. This allowed Tim to have a slower shutter speed and capture more movement without overexposing the image. To keep down the noise, he turned on the long exposure noise setting on his camera. Tim set his camera to aperture priority and pushed the aperture to the smallest size possible, which was f/36. He had an ISO of 200, and a 2 second shutter speed.
For the best results, Tim always tries to shoot outdoors in the early morning or late afternoon light.
You can get more detailed tips on how to add motion blur to your photographs here.
Want to submit your own photo to our Snapshot series? Send the photo (or a link to the photo) and a description of how you got the shot to digitalphoto@macworld.com. Include the text "Snapshot" in the subject line. We'll pick our favorites and feature them on our Website. Chosen photographers will receive a free printed copy of our Digital Photography Superguide.