Acclivity has introduced a new annual edition of their small business accounting software, AccountEdge. AccountEdge 2010 now includes more detailed tracking of store items, analysis of sales profits, bank deposit slip printing, and integration with EnStore, a Web store that works with a point-of-sale system.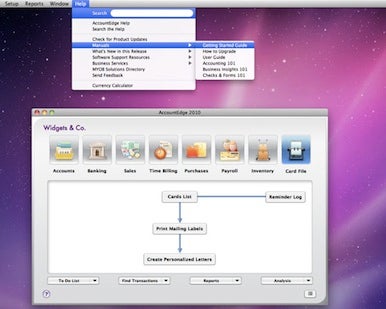 AccountEdge is an all-purpose accounting application that lets you create a centralized company file. It facilitates budgets, sales and purchases, bank payments, invoices, time billing, inventory, and payroll. There is also a Network edition that allows many users to access the same company file.
The software's integration with EnStore, which is still in beta, adds potential value for small businesses that need an online storefront to sell their wares. AccountEdge works with EnStore to process orders and track payments and customers. EnStore includes a number of start-up Web templates to make your store look appealing. As you would expect, it also processes payments and automates the calculation of shipping and tax rates. To sweeten the deal, EnStore includes free hosting and set-up as well as unlimited bandwidth.
AccountEdge 2010 requires a Mac with at least 512 MB of memory running OS X 10.4 or better. A new license for the software costs $300, and an upgrade will run you $160. If you're interested in the Network edition, that's $300 new or $250 for the upgrade. Additional network licenses are $150 each or $500 for a pack of five.