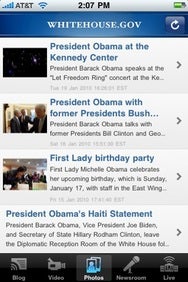 In a world where we have iPhone apps for just about everything, there is now an app for keeping up (officially) with the White House.
On Tuesday, the President's technology team released its first iPhone application, appropriately dubbed The White House. The app features blogs, video, photos, newsroom briefs, and the ability to watch live broadcasts over 3G or Wi-Fi.
On the whole, it's a very well-designed package for the already sleek WhiteHouse.gov Website. Blogs, video, photos, and newsroom briefs are each given their own streamlined section, all of which operate similarly: you can read a simplified version of the information available on the website, launch the full article on WhiteHouse.gov within the app's browser or Safari, or e-mail it to a friend.
Among the flashiest features of The White House app is the ability to watch live broadcasts like the upcoming State of the Union address over both 3G and Wi-Fi (though again, how well the video will play depends on your connection). Live Stream also shows a list of upcoming events, allowing you to plan your watching schedule.
For political junkies who want news straight from the source, the app is a useful addition to your news aggregation page, and Live Stream offers a great alternate way to follow White House broadcasts assuming you're not near a television or computer. In either case, it's nice of the technology team to recognize the need for mobile news. And don't fret, non-iPhone users—the team also announced "mobile.WhiteHouse.gov," coming soon to a device near you.
The White House is available for free download from the App Store; it requires iPhone OS 3.0 or later.