At a Glance
Expert's Rating
Our Verdict
If you regularly read Macworld's articles about computer security, you know the importance of a good password—meaning one that's difficult to guess or crack. My personal tool of choice for creating secure passwords is the $40 1Password, thanks to its plethora of useful browser- and security-related features. But if all you really want is something to help you create secure passwords for online accounts, disk images, and other digital domains that store your personal information, it turns Mac OS X already includes just such a utility, called Password Assistant.
The problem is that OS X doesn't make Password Assistant easily accessible. In fact, it's made available only when OS X asks you to set up a new password—for example, when creating a new account, or when creating a new keychain entry in Keychain Access (in /Applications/Utilities); in these situations, you'll see a tiny key button that opens Password Assistant.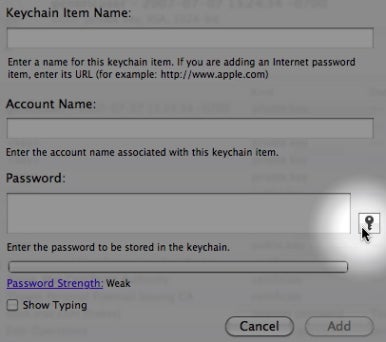 A more-convenient approach can be found in Codepoetry's identically named Password Assistant. This utility, which Joe Kissell mentioned in his article on creating strong passwords, performs one simple task: when you launch it, it opens OS X's Password Assistant. That's it. You can place Codepoetry's Password Assistant in your Dock, stick it in ~/Library/Scripts (so it appears in Mac OS X's Scripts menu in your menu bar), or open it via your favorite launcher utility; however you launch it, you get instant access to OS X's Password Assistant whenever you need to create a new password.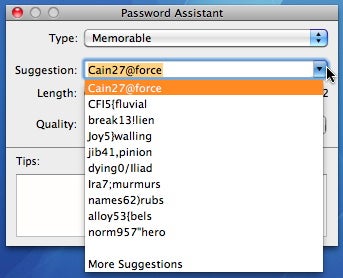 If you've never used OS X's Password Assistant, it lets you create a secure password of up to 31 characters in length, either manually or automatically. If you choose the latter approach, you can also choose the type of password you'd like: one that's relatively easy to remember; one that consists of letters and numbers, only numbers, or random characters; or one that's FIPS-181 compliant. You can then copy the new password and paste it wherever it's needed. Password Assistant can also rate the security of your existing or manually-created passwords.
Password Assistant doesn't provide any mechanism for keeping a record of secure passwords—a task at which 1Password excels—but if your passwords are mainly for Websites, disk images, and remote servers, OS X's own keychain feature can store most of those for you.
Note: At the time of publication, Codepoetry's Website was temporarily offline.
Want to stay up to date with the latest Gems? Sign up for the Mac Gems newsletter for a weekly e-mail summary of Gems reviews sent directly to your Inbox.