Update: Bump Technologies has been kind enough to offer a free upgrade to BumpTop Pro for the first one hundred Macworld readers to sign up at this link.
I'll admit it. When BumpTop first launched as a Windows-only application, I was jealous. The software turned your desktop into a 3D room, where you could easily stick stuff on the walls, make piles of files, and finally move beyond the standard 2D-desktop metaphor.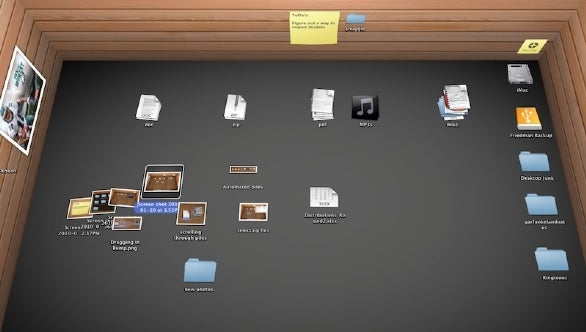 So, when I learned about Wednesday's launch of BumpTop Mac, I was pretty pumped. It's free, with a $29 Pro edition that unlocks extra features.
BumpTop lives as a menu extra. The application completely takes over—that is, replaces—your traditional Mac desktop.
Your immediate experience with BumpTop is undeniably cool. The physics of the 3D room on your screen are well-respected; file icons twist as you pick them up, and settle back down when you drop them. Drag a file onto other files, and they'll all adjust a bit when you let the dragged file fall. It's more than just eye-candy, because it serves the 3D feel well.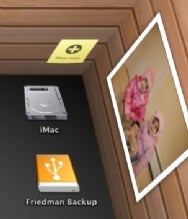 You can make individual on-screen icons as small or large as you'd like. One clever use of this feature that's referenced in BumpTop's excellent intro video involves taking images you love and dragging them to the walls of your 3D room, where you can make them as large as you'd like.
Double-clicking a wall rotates your view, centering the screen there. If you're clever with your file placement, this essentially offers multiple alternate desktops. You can even rotate around and look at the mythical "fourth wall" to tuck extra files out of sight.
Perhaps the coolest element of all in BumpTop is "piles." Piles, frankly, are OS X's Stacks done right. You can drag across multiple files to pile them, or tell BumpTop to make piles by file type. Double-clicking a pile expands a window showing all the files it contains. Adding to a pile is as simple as dragging a file on top. Pro users can scroll through files within a pile either using the scroll-wheel or a multitouch gesture, without needing to expand the whole thing. Piles, of course, can be grown and shrunk like everything else.

BumpTop does an excellent job at replacing the default OS X desktop. It works as you'd expect with Exposé, Spaces, and QuickLook. You can even trigger QuickLook on a pile to preview all the files within it.
There's a vibrant theme community for BumpTop and while you can't yet import an entire theme, you can cherry pick the different background images (for the "floor" and "walls" of your room). The application crashed the first time I tried changing my background images, but it seemed to work fine post-crash.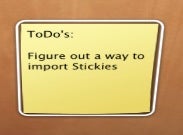 BumpTop sports a simple, built-in pseudo-Post-It note creator. You can't control the font or font size, but you can drag and resize notes anywhere on the desktop just as you can with other files.
If you use a dual-monitor setup, note that BumpTop only takes over your main screen. One other current limitation is that any new files saved to the desktop while BumpTop is running land smack-dab in the center, instead of spacing out like they would on the OS X desktop.
I've spent all day with BumpTop running, and I do like it. You can't help but feel, though, that Apple (or even those other guys in Seattle) will one day implement some of its clever niceties right out of the box. I've managed to stay in BumpTop all day without negatively impacting my workflow, but I can't shake the feeling that my "real" desktop is hiding underneath somehow. Since the basic version is free, it's certainly worth trying out to see how you function when your Mac is in 3D.