Now hear this: Dragon Dictation is shaping up to be the essential voice app for the iPhone and iPod touch. You say the words and they appear as you said them with remarkable accuracy. Although the technology isn't new, the application from Nuance Communications is novel and terrific. And for the moment, at least, you can take advantage of it for free.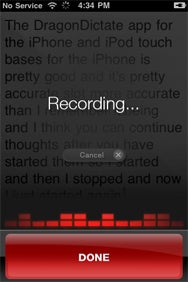 Users who never found much utility in the Dragon Naturally Speaking desktop products—I was one of them—might find some use for Nuance Communication's app on their handhelds. At its best, Dragon Dictation lets you easily update Twitter and Facebook or compose short e-mails or SMS messages by speaking rather than fumbling with the keyboard. The developer claims that speaking and seeing your words instantly transcribed is up to five times faster than tapping out the same message on your iPhone or iPod touch. You will have every reason to believe that's true after just a few minutes experimenting with the app.
Recording with Dragon Dictation is simple. Simply launch the app, tap the record button, and start talking. You shouldn't speak too quickly, but you do not need to articulate every syllable or talk like a robot. Just say the words clearly and naturally. To add punctuation, you say "period," "question mark," or "new paragraph," and Dragon Dictation does the rest.
You can start and stop with a tap, making changes and dropping in text as required. Once you've completed your message, the app will display the transcription automatically and accurately. I encountered only a handful of errors in more than two dozen messages, but they were easy to correct. A keyboard icon at the bottom left of the screen launches the app's slick editing feature that allows you to correct either by typing in your changes or, even more convenient, by speaking your changes. The voice-driven correction interface provides a list of suggested word or name changes. You can also add changes through your iPhone's clipboard.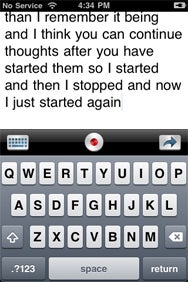 Dragon has a few drawbacks, certainly. You need a decent Wi-Fi or 3G connection for the application to work. Some privacy-minded users have blanched at how the app works: Translation is done remotely. You dictate a message, it's transmitted to a remote server, and the translation is sent back to your handheld. In short, your words don't remain your sole or exclusive property. But there is a reason for this: Nuance uses the data it collects over time to improve and refine the accuracy of its speech-recognition software. The developer insists "all data is stored in secure data centers according to stringent privacy and security standards." Also, when you first launch the app,
Dragon offers to upload the names in your address book to enhance accuracy. But you can opt out with a tap.
You can only dictate about 20 to 30 seconds of material at a time, which seems to correspond to the space of the iPhone's screen. And the app won't translate as accurately in a noisy environment, such as a restaurant or a coffee shop, as it would in an office or a home where the noise is more of a low roar. Depending on your point of view, it's either a headache to then move the text to your clipboard, Mail or SMS text, or it's a simple matter of clipping and pasting text snippets into any application you like. It would be nice if Dragon had buttons to export your dictation directly to Twitter or Facebook, rather than pasting from the clipboard, but that's a small quibble.
Another downside: Dragon Dictation lacks an autosave feature. You will lose your work if you exit the app to take a call before saving to your clipboard.
But it isn't difficult to see how useful such an application could be not just to people on the go who want to dash off quick texts. The developer, which offers the app for free right now, promises more specialized versions for doctors, lawyers and other professionals. A more sophisticated app with a longer recording time would surely be worth a few dollars to the casual user and more to pros. Keep an ear open.
[Ben Boychuk is a columnist and freelance writer in Rialto, Calif. Feel free to e-mail him.]