Lately I've been searching for the ultimate lyrics app for my iPhone. I've looked at quite a few, including the free LyricFind Lite and the $3 LyricFind Pro, and my quest remains incomplete.
It didn't take long for me to come to this conclusion in this case. The publisher of these two apps, LyricFind, provides a music and lyrics database service that other developers can tap into. Obviously, the LyricFind apps use that database, and I think that's at the heart of its biggest problem.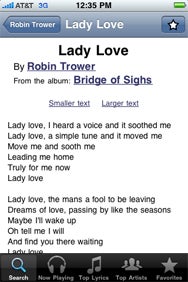 LyricFind Pro can look at the track that's currently playing on your iPhone or iPod touch and then go online to locate the lyrics. (The ad-supported, LyricFind Lite, lacks this feature; otherwise, the two apps are identical.) Apparently, the keepers of LyricFind's database don't listen to the same music as I do, because the app choked on practically every song that I brought up on my iPhone. Normally I'd have started my test by throwing it a curve ball, using a song by some fringe artist. However, for some reason, I went easy this time and tried to locate the lyrics to some very popular songs by the likes of Aerosmith, Alice In Chains, Audioslave, Eric Clapton, Franz Ferdinand, and The Rolling Stones, among others. LyricFind failed on most of them. When I tapped on the Top Artists button, the reason became quite apparent… The Top 5 artists consisted of Lady GaGa, Beyoncé, Miley Cyrus, Lil Wayne, and Jay-Z. (The remainder of the list was more of the same.) I guess I must be a dinosaur because I don't own songs by any of those artists.
Since I didn't have much luck locating lyrics to songs that I own, I decided to give LyricFind's Search feature a go. This lets you search by artist name, song title, or lyrics. When I searched in the lyrics area for "red coal carpet" (a phrase in The Rolling Stones' "Gimme Shelter" (one of the many songs that it couldn't find in my original test) LyricFind actually located the song—both The Stones' version as well as a version by The Goo Goo Dolls. But the song listing was grayed out. Tapping on a grayed-out song pops up a notice that says the lyrics aren't available, but that the developers are always working to clear new licenses.
Once you do find a song that's in the LyricFind database, the app displays the lyrics with a link to the artist and the album. Tapping on the artist's name displays a page containing a photo and some biographical info. Also on this page are links for Lyrics and Albums. Tapping on Lyrics lists all the songs by that artist. Tapping on Albums displays the names of the artist's albums. Tapping on a specific album lists all the songs it contains. Tapping on a song's name will display its lyrics. Even though I'm not impressed with the variety of songs in LyricFind's database, I do like the depth of information that the app provides about the artists and their albums.
If there are lyrics that you want to keep handy, you can flag them as a Favorite for easy retrieval later. Since the app doesn't seem to support copy and paste functionality, I was hoping that its "e-mail a friend" feature would let me extract song lyrics so that I could copy them to the tracks in iTunes. However, instead of actually sending the lyrics, the e-mail only contains iTunes links to the Lite and Pro versions of the app. What a cop-out. (Yes, I said "cop-out," but I'm a dinosaur, remember?)
To be fair, how well LyricFind performs is a matter of musical taste. Certain features, like its search function and the ability to drill down by artist and album are great, but if you can't find the songs that you like, then what's the point? Before spending $3 on the Pro version, I highly recommend experimenting with the Lite version to see how well it does with your music. In order for LyricFind to find its way back onto my iPhone, it needs to support copy and paste, fix its e-mail-a-friend feature, and expand its database far beyond its current offering.
[Brian Beam is a musician, Robin Trower fan and partner with BOLD Internet Solutions, living somewhere near Kansas City.]
Note: When you purchase something after clicking links in our articles, we may earn a small commission. Read our affiliate link policy for more details.