A new year, a new delay for shipments of Apple's 27-inch iMac. The company's online store now indicates a three-week wait for new orders of the machine, though interestingly, the same model shows up for immediate shipment at Amazon.com and other third-party retailers. The 21-inch iMac currently faces no delay at Apple's store or anywhere else.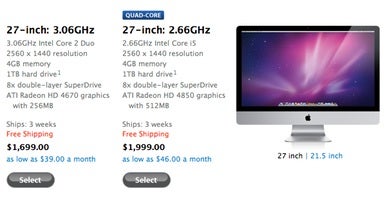 Back in mid-December, Apple's online store listed a two-week delay for their flagship desktop computer. At that time, I was not the only person to speculate that the delay was related to the cracked screens, flickering displays, and other issues some customers were reporting. The shipping delays seemed to abate earlier this month, but not the complaints about the machines on Apple's discussion forums.
The availability of the 27-inch iMac at other online retailers may be an indication that the supply has not yet been exhausted. It's possible that these stores will also show delays once the existing stock of machines is gone.
Apple did not respond to Macworld's request for comment on the current delay. As it stands, it seems like one of two situations is likely: the 27-inch iMac is selling like hotcakes and Apple hasn't yet managed to meet the demand; or the company is still trying to sort out the manufacturing problem and soothe its irate customers.
Either way, Apple has its hands full. And that doesn't even account for the big events it's preparing for next week: Monday's report on first-quarter earnings and Wednesday's splashy media event.
[via AppleInsider]