There is no corner of the Internet remote enough, no crevice dark enough, no nook or cranny small enough to hide from the deluge of tablet-related news stories. While plenty has been said qualitatively about Apple's possible device, how about some cold, hard numbers? Research firm ChangeWave believes it has what you're looking for.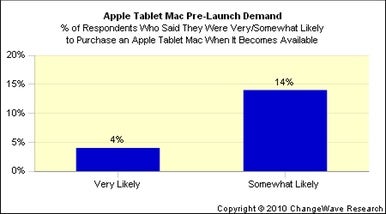 During the company's regular polling about technology purchasing habits, it asked its 3314 respondents how likely they would be to buy a potential Apple tablet for themselves or someone else. Of those questioned, 4 percent said they were "very likely" and 14 percent "somewhat likely." Those numbers might not seem huge, but consider that this is a product of which nothing is known.
Price, of course, is a concern: about 75 percent of those who said they were interested were willing to pay $500 or more, while only 37 percent would go over $700.
For lack of a direct comparison to other mythical products, ChangeWave instead dredges out similar statistics about Apple's transition to Intel processors in 2005—namely, how such a transition would affect the likelihood of purchasing a computer. The numbers appear to line up perfectly, so I suppose you could say that people are roughly as excited about the Apple tablet as they were about the transition to Intel processors.
That said, it's hard to determine whether that means they're extremely excited or not. The Intel transition certainly had its attractions, but at the end of the day consumers could be reasonably certain that they were getting a computer much like their previous computer, even if the underpinnings bore a different brand name. The supposed tablet is a fundamentally new product and it seems like it would be more exciting—and more mysterious—than a processor transition.
Then again, nobody knows what the tablet looks like, does, costs, or smells like, so perhaps that has tempered excitement just a smidge.