At a Glance
Expert's Rating
Pros
Cute, pocketable design
Now with Wi-Fi connectivity
Cons
Keyboard is too small
WebOS sometimes lags during navigation
Our Verdict
The "Plus" in the Palm Pixi Plus really means one thing: the addition of Wi-Fi connectivity. Other than that, the phone is identical in specs and design to its predecessor. While the keyboard isn't perfect and WebOS performance can be sluggish, the Pixi Plus is a solid, inexpensive smartphone—and Wi-Fi only bolsters its abilities.
Because there are so few differences between the Pixi Plus and the original Pixi in hardware and software, I have focused here mainly on the updates and new features. For a closer look at WebOS and the hardware specs, see our in-depth review of the Palm Pixi ( ) as well as the Palm Pre ( ).
The lightweight Pixi feels really nice in the hand, thanks to its rubberized back and slim body. It's also superpocketable, measuring 2.2 by 4.4 by 0.4 inches. Like the Pre Plus ( ), the handset offers a touch area with a light-up bar; you simply tap it to shrink an app to card view.
Although it is narrower, the Pixi Plus's keyboard is slightly easier to use than the Pre Plus's. Yes, it feels a bit cramped, but it doesn't have the sharp bezel lips (which sometimes interfere with typing) found on the Pre Plus's slide-out keyboard. As I noted in my original review of the Pixi, I really wish that Palm had rethought the keyboard design for a phone that's marketed toward heavy messagers—it is simply too small.
Another issue is that, unlike the Pre Plus, the Pixi Plus did not get a storage boost. You're still restricted to 8GB of internal memory. While 8GB isn't bad, people who are planning to keep a large music collection and download a lot of apps onto the device might opt for the 16GB Pre Plus.
The Pixi Plus runs WebOS 1.3, but users will be able to upgrade to 1.4 via an over-the-air update in February. The WebOS 1.4 update will deliver video capture to the Pixi Plus (and to other members of the WebOS family). According to Palm, the update will also improve performance and battery life. I hope the performance improvement will be significant: Navigating through the Pixi Plus's menus can be a bit slow. The touchscreen also occasionally lagged when I tried to open up an app. We'll update this review with WebOS 1.4's new features when they become available.
Unlike the Palm Pre and Pre Plus, the Pixi Plus (and its Sprint brother, the Pixi) won't be able to download Adobe Flash Player 10.1 right away due to some unspecified hardware issues. While this is unfortunate, watching video clips longer than three minutes on the Pixi Plus' 2.6-inch display is less than desirable, so perhaps Flash isn't that big of a loss.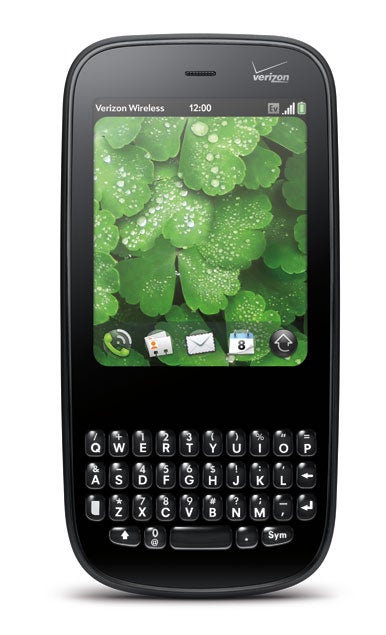 Call quality over the network was also quite good on the Pixi Plus. Voices sounded natural with an ample amount of volume. My contacts could hear me perfectly, even during a blustery day in San Francisco. Browsing over Verizon's 3G network was quite speedy, but I liked being able to switch to Wi-Fi when it was available.
The addition of Wi-Fi also gives you access to Verizon's 3G Mobile Hotspot application. Basically, this app lets you turn your Pixi Plus into a Wi-Fi access point for up to five other devices such as your netbook or portable media player. Setting it up is as simple as downloading the free app and connecting to a Wi-Fi network. There's one catch, however: You'll have to pay an additional $40 for the Mobile Hotspot on top of your Verizon voice and data plans for a 5GB allowance with overage of 5 cents per MB.
I was able to connect five devices with no issues. While connected to the Mobile Hotspot, I could still receive phone calls without interruption. If one of your devices goes idle (like another smartphone, for example), the Mobile Hotspot will disconnect it from the network. Once you activate it, however, it reconnects instantly. The range is pretty decent, too. As long as your devices are in the same room, they'll stay connected.
If you're looking for a sub-$100 smartphone on Verizon, you're going to face a tough choice between the HTC Droid Eris ( ), which runs the Android operating system, and the Palm Pixi Plus. If you're planning on watching a lot of movies and downloading a lot of games, you'll want the Droid Eris because of its larger screen and expandable memory. If you want an unobtrusive smartphone for messaging and social networking, however, the lithe Pixi Plus is a good fit, even if the keyboard needs some work.
[Ginny Mies is an assistant editor for PC World.]