In Sherlock Holmes Mysteries, you travel back to 1890s London to solve a mystery. Using a handful of skills and the famed detective's powers of deduction, you question the characters and examine the evidence to reveal the identity of the murderer.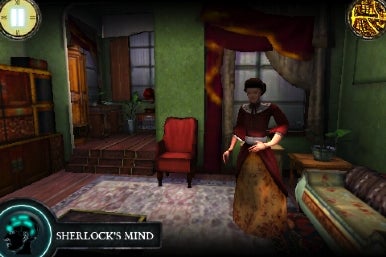 Sherlock Holmes Mysteries by Warner Brothers is an interactive adventure. There is a short mystery, "The Missing Memento," to get you acquainted with the game before you tackle the "Case of the Innocent Man." You tap and drag to look around the environments and tap cues to question people. Move to different locations by tapping on the map to collect objectives and evidence—combine them to form clues in Sherlock's mind and ultimately solve the mystery.
The characters and backgrounds are beautifully rendered with exquisite detail. Similarly, the entertaining dialogue, ambient sounds, and beautiful music combine to create an immersive environment that would have made Sir Arthur Conan Doyle proud. Sadly, the mystery itself would not likely hold up to Conan Doyle's high standards. Mini games such as boxing and clue searching aren't very difficult, and combining clues in Sherlock's mind is very formulaic. With no adjustable difficulty, even casual gamers should breeze through with ease.
Sherlock Holmes Mysteries provides an entertaining story with interactivity to keep you engaged. Perhaps this is only the first of many mysteries, and sequels are forthcoming to really challenge fans. For now, though, Inspector Clouseau would have little difficulty solving this case.
[James Savage is the host of the RetroMacCast a weekly podcast devoted to older Macintosh computers.]