Live Cams, developed by Barry Egerter, lets you explore the world through public webcams or even view your own security cameras right on the iPhone. Whether it's the grizzly bears cam in Canada, the beach cams of Hawaii or just checking in on your own house, there's something in Live Cams for the voyeur in us all.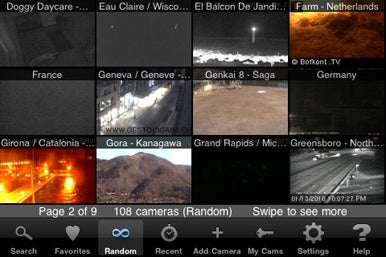 When you open Live Cams, you are presented with a 3×4 grid of live webcams. Swiping left will reload the page with the next set of cameras and tapping on one will bring it up full screen. Live Cams even lets you control many of the webcams by zooming in and out or panning around. Sometimes you'll find that someone is already controlling the camera; in that case, you'll have to wait your turn.
If you see something particularly interesting on one of the cameras, you can take a snapshot by tapping a little camera icon on the screen. The app will save the picture the camera roll on your iPhone or iPod touch. You can also tap the heart icon to make that webcam a favorite. Some webcams even have a map icon that will bring up a map to its location.
Live Cams has more than 3,500 webcams already loaded into it, with new ones being added all the time. Many of these cams have been categorized by the developer for easy searching—categories include People, Beaches, Animal, and Traffic. You can also do a custom search by typing in search terms; the 3.04 update added the ability to search by state and region.
Live Cams also lets you add webcams to its library. This is a really nice feature if there's a particular webcam you are a fan of that's not already in Live Cams, or if you want to stream your security cameras from your home or business. Live Cams supports Webcam XP and a few others for the PC and Evocam for the Mac. You can find detailed instructions for adding your own webcams on the developer's website.
Streaming webcams requires a Wi-Fi connection; if you switch to 3G, you'll just get still images. Video quality varies from camera to camera—most stream at about 3 frames per second or less though that really depends on the webcam itself and not the app.
Barry Egerter has done a really nice job bringing all these webcams to the iPhone. Being able to view you own cameras is really useful for keeping tabs on your house or business, and the public webcams are cool for exploring the world.
[Tim Mercer is a technology enthusiast, graphic designer, and blogger, whose blog, digital-artist-toolbox.com, offers free resources to the digital artist and graphic designer.]