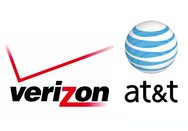 Apple's rumored tablet device will be available through both Verizon and AT&T, according to a report by Foxnews.
If true, that would likely mean that the new Apple device, expected to be unveiled next week, would come with 3G cellular connectivity built in, CDMA for Verizon and GSM/UMTS for AT&T.
Are you salivating for the Apple 'iSlate' tablet? Take Network World's poll
"It sounds odd for Apple to have a major press event without a final carrier deal….Nevertheless, Apple is in talks with both AT&T and Verizon to support the tablet, according to sources within the companies," writes Foxnews reporter Clayton Morris.
Morris cited several unnamed sources at both carriers in his story. As with nearly all stories about the long-rumored device, Morris' story is short on specifics. Much of the account simply rehashes the sniping between the two carriers about the merits of their respective 3G networks.
If the carriers' interest is real, it would reflect the belief, or hope, that an Apple tablet would achieve the success of the iPhone. Those hopes are fueled by wildly optimistic estimates, or outright guesses, about how many of the unannounced devices Apple will sell in the first year, such as this one reported by AppleInsider. The report, citing "projections" by Mike Abramsky, an analyst with RBC Capital Markets, says Apple could sell up to 5 million units in its 12 months, yielding $2.8 billion in new revenue based on an average selling price of $600. Apple reported last October that it sold a total of 7.4 million iPhones, all models, just in the fourth quarter ending September 2009.
But the key question may be what users have to actually pay to get the device on a carrier's network.
Based on Network World's own poll, the tablet's price tag will have a dramatic impact on sales. As of this morning, 52 percent of respondents said they'd spend up to $699 for such a device; 32 percent said they'd go as high as $999. Only a tiny fraction is willing to go higher. Yet Apple has traded on its high customer satisfaction scores to offer its products at a premium, the so-called "Apple tax." Even a $600 tablet is about three times the price of the iPhone 3GS and six times that of the iPhone 3G (both with two-year AT&T service plans).
But those iPhone prices are, as indicated, for subsidized phones. Without a service plan, AT&T offers the iPhone at prices ranging from $499 to $699 (see footnote 1 here). The tear-down component analysis by the market research firm iSuppli concluded that Apple's bill of materials for the iPhone 3GS comes to just under $180.
For AT&T, a tablet deal would extend the carrier's existing relationship with Apple as the iPhone's sole U.S. carrier. Currently all iPhones can run on AT&T's older and slower GSM/EDGE network, with "typical rates" of 75-135kbps. The UMTS/HSDPA/HSUPA 3G network boosts that dramatically, to 700kpbs-1.7Mbps downlink and 500kpbs-1.2Mbps uplink, according to the carrier.
The Foxnews story cited a Verizon spokesman who says the carrier is considering tiered pricing for future tablet devices on the cellular network, but he wouldn't mention the Apple device (Apple and Verizon are also reported to be in talks over bringing the iPhone, or a new iPhone model, to the carrier's network around mid-year). Both carriers currently offer cellular-equipped netbook computers with data plans.
One Verizon source in the Foxnews story said that its version of the Apple device also will have built-in Wi-Fi, though it's more likely that all models of the device will support Wi-Fi. AT&T has an extensive Wi-Fi hotspot network in the U.S. and Wi-Fi service is a key element in its wireless strategy.