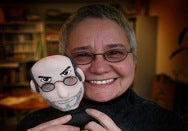 Mary Bogdan is a New York-based artist whose work has been exhibited at the New York Museum of Modern Art. She also claims to have an obsession with Steve Jobs that spans back 30 years. In olden times, that's the sort of thing one might keep to one's self. But in the Internet Age, the obvious course of action is to not only declare such obsessions publicly but to also commit them to video.
So naturally, Bogdan has produced a video called "Steven Jobs & Me", which features one of PodBrix's lovable Steve Jobs plush dolls in a number of settings around the house—some Mac-related, some not.
The video—a slideshow more than anything—is equal parts charming, touching, and just a tad bit creepy. The Mac paraphernalia in many of the shots illustrates just how much Apple has affected Bogdan's life. A Power Macintosh 7500, a first-generation iMac, a Macintosh Plus, and stacks of old Mac software boxes all make brief cameos. The soundtrack by Kenetic Music adds a dreamy, nostalgic flavor to the mix.
There's no word on the Apple CEO's reaction to the video or whether he's started varying his routes to and from work.