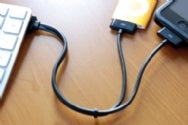 Cable vendor CableJive has introduced the DuaLink, a USB dock-connector cable for iPods and iPhones that lets you charge and sync two devices simultaneously.
While Apple's $19 Dock Connector to USB Cable provides a standard USB plug (for connecting to your computer) at one end and a dock-connector plug (for connecting to your iPod or iPhone) at the other, the 9-inch-long DuaLink ups the ante with two dock connectors. You can connect each to any iPhone or dock-connector iPod, allowing you to charge and sync two devices at a time via a single USB port—or charge both using a single USB power adapter—while reducing the cable clutter on your desk and in your travel bag.
According to CableJive, the $26 DuaLink works its magic by including a two-port USB 2.0 hub inside the cable itself. The DuaLink also uses heavy-duty cable and includes a lifetime warrantee. It is available now from the CableJive Website.