eBuddy Pro aims to be Adium for the iPhone and iPod touch. It's a push-enabled chat application that lets you instant message with your buddies on AIM, Facebook, Yahoo, MSN, ICQ, GTalk, MySpace, and Hyves.
eBuddy works pretty well—just not right out of the box. That is, eBuddy has the capacity to be a very good multi-protocol IM app; you just need to tweak a few settings first to get things working sanely.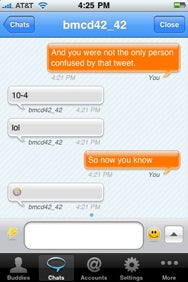 When you first launch the $5 app, you're prompted to create an eBuddy account—a single username for all your IM accounts that will also work at the eBuddy Website, too. Once your eBuddy account is ready to go, you can start adding all of your other IM credentials to it. Yes, this means that you'll need to trust the company with your passwords for all of those other services, but the eBuddy icon looks so cute and cuddly, how could you not trust it?
Once you've setup your accounts, eBuddy lists all of your buddies alphabetically. Tap on one and you can start IM'ing instantly. But as you type out your first message ("Hey, just checking out eBuddy for Macworld,") it might come up looking more like: "Hey, jiat vhefking out eBuddy dor Maxwodld." That's because, inexplicably, eBuddy turns off the iPhone's auto-correction by default. Do yourself a favor: Tap on the Settings tab, slide the slider for auto-correction to the "on" position, and save yourself several long seconds of aggravation.
While you're there on the Settings screen, you might want to adjust your buddy list so that it sorts by group (or even IM platform) instead of just by name. The default, strictly-alphabetical presentation mushed together all my contacts from various life buckets into a lengthy list that was pretty unusable. eBuddy smartly includes a search box if you drag up past the top buddy, much like Mail. But unlike Mail, and unlike most iPhone apps with scrolling lists, eBuddy doesn't support the shortcut that lets you tap at the top of the screen to jump back up to the top of the scrolled list—a small yet ever-present annoyance.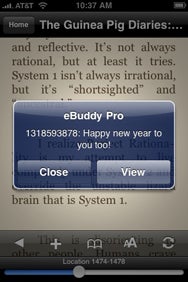 Chatting itself works well. You can switch between multiple conversations with ease; just swipe between chats, or go back to the chats tab for a list of all your open conversations. You can be alerted to new IMs with a sound, vibration, or both. eBuddy lets you set how long you should remain logged into your chat services after exiting the app. Using any setting other than "Immediately" means that you'll receive push notifications for that duration when the app's not running—and you can make that time window as long as three days. In my testing, the push notifications for new IMs came quickly (usually in less than a minute), but not instantly. Facebook notifications, unfortunately, display using numeric Facebook IDs, and not your friend's name, as in: "1318593878: Happy new year to you too!"
Composing IMs is easy. You can use the app (and tap in your messages) in both portrait and landscape modes, and the emoticon chooser allows you to avoid the annoyance of switching to the iPhone's punctuation keyboard when words aren't enough to convey your mood. ;).
A free version of eBuddy includes advertisements—large, prominent ones at that—but otherwise functions essentially the same as its Pro big brother. If you're a frequent IM'er across multiple platforms, eBuddy Pro performs quite capably, especially thanks to the push notifications.
[ Lex Friedman is a frequent Macworld contributor.]