Snood is a "match-three" puzzle game from Electronic Arts. First released in 1996, the colorful puzzle game has graced multiple platforms and has become arguably the most successful casual game in history (save Solitaire). EA brings the classic gameplay elements to the iPhone and embellishes the title with new modes and features, making this version of Snood more than a simple port.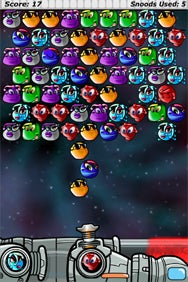 What makes Snood fun is the distinctive looks of the Snoods—including a winking tomato-head dude and a skull-face with a missing tooth. The seven different types of Snood each have a distinct look, name, and personality.
Your goal is to group together at least three of the same kind of faces; do so, and they'll pop off the screen. You fire each Snood out of a cannon—you can see which one you're about to fire as well as what Snood is on deck, which can help you form a strategy. The ability to bounce Snoods off the walls also adds a level of complexity to the game.
Besides this story mode, there's also a classic mode in Snood. As in story mode, the classic mode allows you to unlock other difficulty settings and work your way up through more and more difficult levels. You can also switch the Snoods' look from the updated "cool" look to the more traditional icons that Snood is famous for.
If you leave your Snood game for any reason—phone call, closing the app, etc—you'll be able to load the game from where you left off next time you play single player. However, if you want to start a new game, there is no save game feature in Snood so you can't come back to that difficult hard level you keep getting stuck on.
Unfortunately, the game's menu is not very navigable. While colorful and cartoonish, the current layout is confusing after you hit the "play" button. It seems strange that after you play through the story mode and unlock certain elements of the game, if you play a different mode and come back to your story mode none of your progress is saved.
The "match-three" genre of puzzle games has saturated the iPhone market, but Snood offers a few twists. The game features an insanely challenging difficulty level (called "Evil," appropriately enough). And a Wi-Fi multiplayer mode lets you challenge friends in head-to-head competition, ensuring the game is more than as a simple port of the old casual game. Through an integrated log-in process, you can invite friends through Facebook to play either Live (Against Online Opponent) or Challenge (Opponent Plays Later). A list of friends will populate with their profile pictures, a sleek-looking feature that lets you see who it is that you're going to challenge. An invitation will then be sent to them, which they can accept or decline.
Snood might not hold your attention for too long, but it's great for a quick five-minute game, has memorable graphics, and puts a character-driven spin on the match-three genre.
[John Brandon is a freelance technology writer based in Minnesota.]