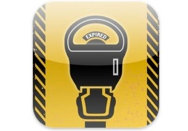 Frolicware on Monday announced the immediate availability of AutoPark 1.0, an iPhone app meant to help you remember where your car is parked—and how much time is left on the meter.
AutoPark leverages various key elements of the iPhone, including the GPS, push notifications, and of course multitouch. The GPS integration, not too surprisingly, works with a built-in map so that you can find your car again after your errands are finished. The push notifications alert you at user-specified intervals to remind you when your parking meter time will expire. With your iPhone beeping and buzzing away in your pocket, it should be tougher to forget to feed the meter—and thus easier to avoid parking tickets.
Also included in the app is the ability to quickly e-mail your friends with your exact parking spot, optionally including a photo of precisely where you are. Additionally, you can store a reminder about which level of a garage you've parked on, and tap to see nearby gas stations, restrooms, and banks.
If you're like me, you stopped relying on your piddling brain to remember such mundanities long ago. If that's the case and your iPhone is running OS 3.0 or later and you have $5 to spare, AutoPark may be worth a look.