Editor's Note: The following article is reprinted from Macworld UK. Visit Macworld UK's blog page for the latest Mac news from across the Atlantic.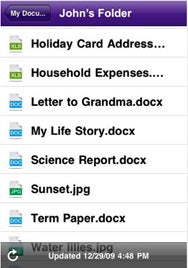 Carbonite, a provider of online backup services, has announced the release of an iPhone application that allows users to browse, view, and share backed up files on the move at anytime.
Users can log in to their Carbonite account from any iPhone or iPod touch and once logged in, can access all files backed up to Carbonite, in the same folder structure they appear on the user's Mac or PC.
The Carbonite app allows users to browse backed up files directly on an iPhone or iPod touch; open and view files including PDFs, images, audio, video, and Office documents; and attach any file to an e-mail with a single tap. The Carbonite app also has an offline mode, allowing users to access cached content when a Wi-Fi, EDGE, or 3G connection is not available.
A year's subscription to Carbonite, providing unlimited backup space, is available for $55. The service also offers a free 15-day trial.