Recosoft has announced the release of the latest edition of PDF2Office Professional. Version 5.0, which offers Snow Leopard support, now converts PDFs to Microsoft Excel as well as other Office formats. It also remembers all font substitutions and enhances graphics and layouts during conversion.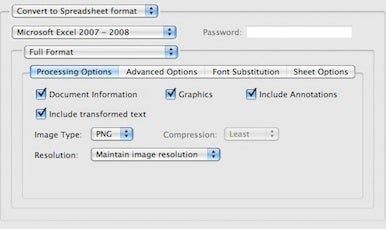 PDF2Office Professional is a flexible tool that does just what its title says: its drag-and-drop interface lets you convert PDF documents into formats that are readable in Microsoft Office. The application preserves all layout features, including images, tables, columns, and footnotes. You can perform batch conversions and open password-protected PDFs, too. If you don't want to convert a file, you can also open a PDF directly from within Word.
The previous version offered conversion for Microsoft Word and PowerPoint, and now Excel gets the conversion treatment, too. In addition to the languages it supported before, PDF2Office 5.0 handles Russian and Greek text. The PDF Reconstruction Engine has gotten another boost, helping improve the quality of document conversions. Finally, there's an enhanced Word plug-in that lets you fine-tune your documents and deal with typefaces.
PDF2Office 5.0 requires a Mac running OS X 10.4.11 or better. The software works with any version of Word, but you'll need Office X, 2004, or 2008 to open PDFs directly within Word. PDF2Office 4.0 costs $129 but an education license can be had for $89 and an upgrade from an earlier version is just $69. If you bought PDF2Office 4.0 after November 20, 2009, you can upgrade for free.