At a Glance
Expert's Rating
Pros
Excellent Windows media playback
Better use of multiple monitors in full screen mode
Improved interface
In-app upgrades
Some OpenGL 2 support
Good support for DirectX
Polished
Cons
Some file operations are slower than expected
No OpenGL 2 in Windows 7
Can't use more than four CPU cores
Our Verdict
When I reviewed the last version of VMWare's Fusion, which lets you run Windows on an Intel Mac, my only real complaints were its lack of OpenGL acceleration and its limited technical support. With the latest version, Fusion 3, VMWare addresses both of those issues, as well as offering more than 50 new features.
Among the most notable of those additions are a migration assistant that makes it painless to migrate the configuration of a real-world Windows PC to a virtual machine on your Mac; full support for Snow Leopard and 64-bit computing: support for Windows' Aero interface (assuming you have an ATI Radeon 2600, NVIDIA GeForce 8600M, or better video card); the ability to run more 3D programs and games well; reduced memory usage in Windows 7 and Windows XP virtual machines; many improvements to Fusions's Unity view mode (which integrates Windows with the rest of your Mac's application windows); and a built-in remote control server, so you can easily connect to a virtual machine's screens from other computers.
To test Fusion 3, I used it to run Windows XP Pro, Windows 7 Ultimate (both 32-bit and 64-bit versions), and Ubuntu Linux 9.10 on my Mac Pro (2.66GHz quad core with 8GB of RAM, running OS X 10.6.2). Note that Fusion 3, unlike Parallels Desktop 5, won't run on OS X 10.4; 10.5.8 or newer is required.
Installing Windows and Linux operating systems in Fusion 3 is a snap: the easy install option handles all the questions you might normally have to answer during an install, so you can just start the process and walk away.
Once they're installed, a revised virtual machine library panel shows you the state of all your installed virtual machines, with a real-time preview of each active one. If you find those constantly updating windows annoying, you can disable it easily.
The Home screen has been redesigned in Fusion 3, and now offers fast access to four common tasks: use your Boot Camp partition as a Windows virtual machine; create a new virtual machine; convert a physical PC into a virtual machine; and download trial virtual machines (including a trial version of Windows). You can also open or import an existing virtual machine here, or watch video tutorials.
Preferences and menus have also been redesigned. I found the new organization easier to both use and remember than the more complicated layout in the previous release of Fusion.
The basics
Like other virtualization apps (VirtualBox and Parallels), Fusion 3 runs typical Windows office programs (Microsoft Office, Internet Explorer 8, Firefox, and so on) or Linux (OpenOffice, Firefox, Thunderbird, among others) just fine. The programs launch quickly; scrolling a complex Word document was relatively fast—quicker than in VirtualBox, and maybe just a bit slower than in Parallels. But overall, typical office programs don't give Fusion 3 any problems.
Fusion 3 also offers better multiple monitor support; if you have multiple displays, you can enable the guest operating system to use them (in Full Screen mode only). I tested this feature with two (3000 horizontal pixels) and then three screens (5648 horizontal pixels) attached; it worked fine in both cases.
In Windows OSes, you get true multiple-monitor support: each connected display appears as a separate display within Windows. You can move the menu bar from one screen to the other, rearrange the screens, use mirroring, and so on.
In Linux guests (at least in Ubuntu, which is what I tested with), multiple displays are simply merged into one very large "virtual" display, with a horizontal resolution equal to the total horizontal pixels of the attached displays. The vertical resolution is listed as an odd number (1398 in my three-monitor test), but each screen is running at its full native resolution.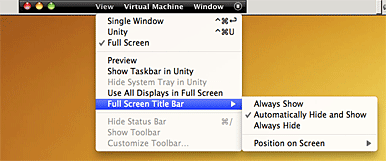 When you're working in full screen mode, you'll see a new Full Screen Title Bar, which makes it easy to change viewing modes or to access the Virtual Machine and Window menu items. You can set this title bar to hide (like the Dock), or to appear always or never. I found it most useful hidden, so it'd be there when I needed it, but didn't take up any screen real estate.
For typical office productivity tasks, Fusion 3 basically eliminates the need for a physical Windows PC. Like its competitors, it handles day-to-day Windows (and Linux, if that's your cup of tea) tasks quite easily.
Graphics, gaming, media
As noted, one of the big additions to this new version of Fusion 3 is its support for OpenGL 2.0 in Windows XP Pro. With that support, Fusion 3 ran our Cinebench OpenGL test markedly faster—taking only 35 seconds to run. Unfortunately, Fusion's support for OpenGL is more limited in other OSes: In Windows 7, Fusion supports OpenGL version 1.4 only; in Linux OSes, OpenGL isn't supported at all. Without OpenGL acceleration, Fusion's rendering times in Cinebench were very slow: it took over six minutes in my Windows 7 32-bit virtual machine.
By comparison, Parallels 5 completed that same test in just 20 seconds. Unlike Fusion, Parallels 5 offers OpenGL acceleration in Windows 7 (both 32-bit and 64-bit versions), as well as in Linux operating systems. Parallels bests Fusion even in Windows XP Pro, in which both support OpenGL 2.0.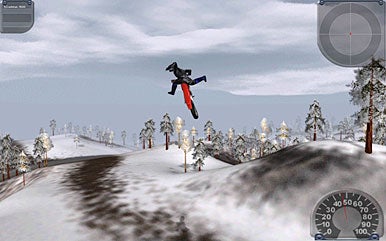 Fusion 3 manages Windows DirectX gaming much better than the previous version; I was able to play older games such as Microsoft's Combat Flight Simulator 3 and Motocross Madness 2, which were problematic in Fusion 2. I was also able to play newer games, including Half Life 2's Lost Coast episode and Flight Simulator X, with decent frame rates. I tried playing the demo version of Call of Duty 4, but found it basically unplayable at 1024×768 resolution, even with all the fancy visual effects turned off. (I performed all game tests in Windows 7, to stress the virtual machine as much as possible.)
While gaming works quite well in Fusion 3, and much better than it did in Fusion 2, again it's not as good as Parallels 5, which gave me consistently better frame rates in each of the games I tested.
The graphically intensive Aero interface in Windows 7 worked well in Fusion 3, though I first had to disable the Mac OS X shortcuts in Fusion's preferences: Command-Tab is the default Windows command for Flip 3D, which conflicts with the OS X application switcher. I'm not sure about the general usability of the Windows 3D features, but they do work well in Fusion.
Fusion 3 did an excellent job with my Windows HD media tests in both Windows XP and Windows 7. Using my 1080p test movie, I found video and audio were both excellent, without any visible frame drops and just the very occasional audio hiccup.
Parallels was also very good with HD playback tests, while VirtualBox was basically unable to play my sample movie in any version of Windows.
Bottom line: If speedy OpenGL performance or gaming is crucial to you, Parallels 5 is a better bet than Fusion 3.
Migrating a physical PC
Fusion 3's migration assistant is designed to make it simple to convert an actual Windows PC into a Fusion virtual machine—perfect for people who have just bought their first Mac and want easy access to the programs and documents on their Windows PC. To test that assistant, I migrated my physical Vista Business PC, which has about 40GB of stuff on its drive, over to my MacBook Pro.
To do so, I first had to install a free VMware Migration Assistant application (which also installs Apple's Bonjour for Windows) on the Vista PC. After launching that app on the Vista machine, it presented me with a four-digit number code. I connected the PC to my MacBook Pro over the Ethernet network, launched Fusion's migration assistant from the Home panel, and entered that code from the PC when prompted.
Fusion then began gathering information from the PC and started copying the system across the network. I don't know exactly how long this took, as I left the room for much of the process; I do know it was done within a few hours.
I then launched the new virtual machine on my Mac. I found that, while it worked, I wasn't able to resize the screen; the image would just scale. A quick reinstall of VMware Tools solved the problem.
Everything appeared to have been moved successfully—all my files and programs were there, along with the user accounts I'd created on the original PC. Programs had retained their settings, and everything seemed to work just like it did on the physical PC, though a touch slower given it was now in a virtual environment.
Other new features
Fusion is now multi-core aware, which allows you to use up to four available virtual processors in Home and Starter versions of Windows XP, Vista, and 7. (Before, you were limited to two virtual CPUs; Parallels allows up to eight cores.) Fusion 3 uses memory and CPU more efficiently, too. If you've got existing Windows XP virtual machines from previous versions of Fusion, you'll need to recreate them in Fusion 3 to realize the lower memory footprint.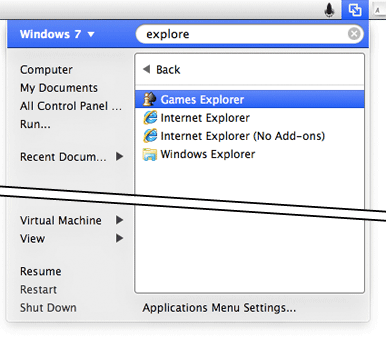 If you like to have a fully-integrated virtual machine experience, Fusion includes a new Applications Menu that you access via a menu bar icon. You can choose to have this menu visible always, only when Fusion is running, or never.
That menu lets you search for applications and documents on your virtual machine and open them by selecting from a list of matches. If necessary, Fusion will launch and start the chosen virtual machine, and then open the document or application you selected. The Applications menu also gives you fast access to Fusion menus, the virtual machine's settings, and Suspend, Restart, and Shut Down options.
At first, I didn't like the Applications menu. But after using it for a while, I found that it really makes it easy to load exactly what you need to work with in your virtual machine.
Unity mode now works really well, in both Windows and Linux guests. Applications from those other OSes show up separately in the Mac's Command-Tab application switcher, and all windows are independent. That means, for example, that you can use Command-~ to flip between open windows within the same application; Exposé's Application Windows mode works as expected. Unity mode no longer make you feel like you're stuck halfway between full functionality of the guest OS and the Mac OS.
Another welcome addition in Fusion 3 is a built-in updater; it worked very well for updating to version 3.0.1, and is a great improvement over Fusion 2's "download the entire package again, please" method. The 3.0.1 update fixed a number of bugs, and didn't cause any problems in my time with it.
There are numerous other small tweaks that improve Fusion's usability. You can mount a suspended guest system's hard drive as a read-only disk in the Mac OS, so you can copy files off the disk without starting the guest. The previously-hidden remote display server (VNC) is now accessible in the Advanced section of the virtual machine's settings panel, so you can easily access a running guest OS from another machine using any VNC client.
Copy and paste are improved, too: You can now copy and paste images between the Mac OS and Linux and Windows guests, and rich text to or from Linux guests. In addition, you can drag a file from a virtual machine directly onto a Mac OS X application in the Dock.
Finally, Fusion 3 includes 18 months of installation assistance and support, which is a nice improvement over the 30 days included with prior versions of the product.
Macworld's buying advice
Fusion 3 improves on Fusion 2 in numerous ways, including faster performance, lower memory usage, and features that improve productivity and usability in both Windows and Linux guests. Overall performance lags behind that of Parallels, especially if you need OpenGL acceleration in Windows 7. Its handling of Windows HD media, on the other hand, is excellent—it matches Parallels' in playback quality, and does so with lower CPU utilization.
If you own Fusion 2, upgrading to Fusion 3 is a smart move; the cost is relatively low, the performance improvements are real, and the new features make working with guest operating systems a much nicer experience. If you're just entering the virtualization market, however, it's a tougher call. For advice on that front, see the upcoming virtualization round-up for specific recommendations based on your expected usage.