Editor's Note: The following article is reprinted from GamePro.com. For more gaming news, visit GamePro's news page.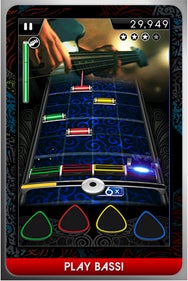 For those of you about to rock but hesitant to pay $7 to do so, Harmonix salutes you.
Joystiq has discovered that the App Store has been updated with a new version of Rock Band this week. Entitled Rock Band Free, the game does indeed earn its moniker as the app costs nothing. According to the 'Stiq, Rock Band Free consists of a single song demo. If you should choose to upgrade to the full version, it'll set you back the price of Rock Band—currently $7, which is a pretty penny when it comes to iPhone games.
If you're worried that your portable Rock Band without plastic instruments will soon be denied DLC, don't fret. The description for the full version of Rock Band on the iPhone promises new content this year, stating "Coming at you in 2010, look for new premium tracks available at a low price in our Music Store from awesome artists like WEEZER." (Their emphasis, not mine)
Note: When you purchase something after clicking links in our articles, we may earn a small commission. Read our affiliate link policy for more details.