BirdsEye is a simple and useful birding application that leverages the power of eBird—a collaboration between The Cornell Lab of Ornithology and the Audubon Society. At this centralized bird-watching site, Cornell and Audubon collect bird sightings from birdwatchers all over the world, although the BirdsEye app only contains data on birds found in North America, north of Mexico.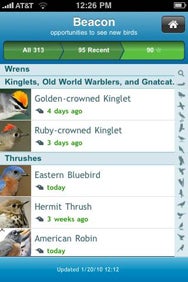 Unlike Birdpost, BirdsEye is loaded with up-to-the-minute sighting information, which you can use to guide you to locations where birds you're looking for have been seen. BirdsEye uses your iPhone's GPS to locate birding hotspots in your area, but if you're using an iPod touch, you also have the option of manually selecting your current location.
Developed by Birds in the Hand, BirdsEye ships with a database of the 470 most observed birds in North America, but for $20 you can make an in-app purchase of 377 additional species. You can also buy specific families of birds instead of the entire 377 species database. BirdsEye's database includes field notes from Field Guide author Kenn Kaufman, bird calls taken from the Macaulay Library of Sound, and photographs from the Vireo collection at the Academy of Natural Sciences. Personally I think the cost of the additional species is a bit steep, especially when compared to other apps like iBird Explorer Plus and iBird Explorer Pro.
One of BirdsEye's best, and yet incomplete, features is its Life List, where you can compile a list of birds you've seen yourself. While BirdsEye makes it simple for you to create this list, it offers you no way to collect personal notes on your sightings. Furthermore, while your personal sightings will show up in BirdsEye if you post your bird sightings to eBird.com, there isn't any way for you to link the BirdsEye app with your eBird account or to have your sightings posted directly to eBird.com.
Nonetheless, BirdsEye is a unique, powerful, and indispensable tool for anyone interested in finding the birds they want to see.
[Jeffery Battersby is an IT Consultant, (very) smalltime actor, and regular contributor to Macworld. He writes about Macs and more at his blog.]