Record sales of Macs and iPhones helped power Apple to its best-ever performance this past quarter, as the company on Monday reported record revenue and profits for its fiscal first quarter of 2010.
For the three-month period ending December 29, 2009, Apple tallied sales of $15.68 billion and a net quarterly profit of $3.38 billion. That compares to year-ago figures of $11.88 billion in sales and $2.26 billion in net quarterly profit.
"We're extremely pleased with our record-breaking performance, including our 32 percent in growth in revenue and 50 percent growth in net income," Apple chief financial officer Peter Oppenheimer told analysts during a Monday afternoon conference call to discuss Apple's quarter numbers.
Apple's quarterly performance translated to earnings of $3.67 per share, up 47 percent from the $2.50 per share that it earned in the year-ago quarter.
If Apple's year-ago numbers seem off from what Apple reported last January, it's because the company retrospectively adopted the Financial Accounting Standards Board's amended accounting standards during the 2010 first quarter. Adopting those standards significantly alters how Apple accounts for certain items—most significantly iPhone and Apple TV sales.
Previously, Apple had accounted for iPhone and Apple TV sales on a subscription basis, deferring revenue and product cost for those products over 24 months. With the new accounting rules, Apple can recognize revenue and product at time of sale. The company has restated its results for the 2007, 2008, and 2009 fiscal years to reflect this change; it filed a form with the Securities and Exchange Commission Monday listing the revised quarterly results and will make those revisions available at its Website page for investors.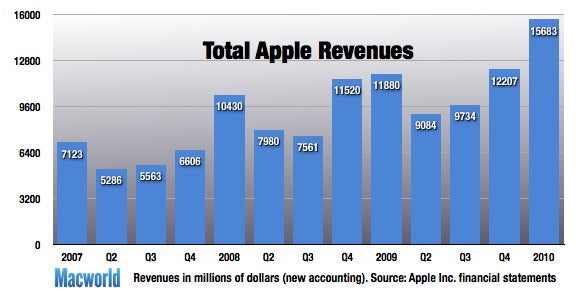 "We believe [the new accounting rules] will better enable us to recognize the underlying economics and performance of our business," Oppenheimer said.
Mac results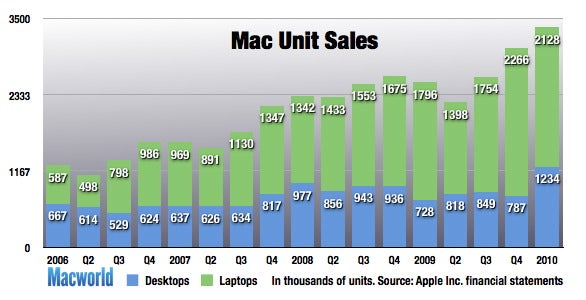 For the 2010 fiscal first quarter, Apple sold 3.36 million Macs, up 33 percent from the 2.5 million units the company sold in last year's first quarter. Oppenheimer noted that the 33-percent year-over-year growth rate outpaced the projections of market-research firm IDC, which sees the overall PC market growing at 17 percent.
"We're shipping the best products in our history, and customers love them," Oppenheimer said.
The Mac sales figure sets a new record, topping the 3.05 million Macs Apple sold during the fiscal fourth quarter of 2009.
The fall revamp of the iMac line helped boost desktop sales for the quarter. In October, Apple replaced its 20- and 24-inch iMacs with new 21.5- and 27-inch configurations of the all-in-one desktop. Apple sold 1.23 million desktops in its first quarter of 2010, an increase of nearly 70 percent from the 728,000 desktops it sold a year ago.
However, portable sales continue to drive the Mac business. Apple sold just under 2.13 million laptops during the first quarter—63 percent of all the Macs it sold during the quarter were portables.
Oppenheimer credited the October introduction of the unibody MacBook for helping drive laptop sales. Portable sales rose 18 percent from the 1.796 million laptops Apple sold in the year-ago quarter.
The new hardware may have had a role in sparking sales growth in Apple's education segment during the quarter. Overall education sales for Mac products grew 16 percent from last year—Apple's best growth rate in that segment since before the start of the current recession, according to chief operating officer Tim Cook. The K-12 and higher-education channels both reported record sales for the December quarter.
"Our whole education business is based on really understanding teaching, learning, and student achievement, and we think we're the only tech company that really gets that," Cook said.
iPhone results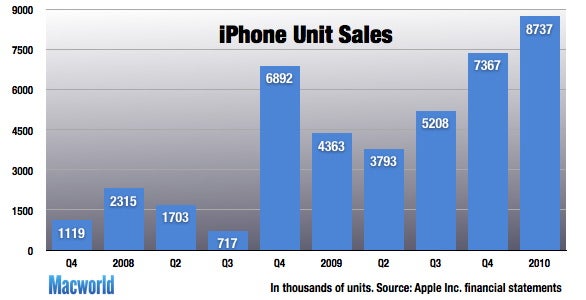 iPhone sales reached record heights in the quarter. Apple sold 8.7 million iPhones in three months, breaking the record of 7.4 million set in the previous quarter. More impressive was the fact that iPhone sales were twice what they were during the previous year's first quarter—during the 2008 holiday quarter Apple sold 4.4 million iPhones. The sales value of those 8.7 million iPhones was more than $5.4 billion. The average selling price of iPhone models was down 5 percent versus the prior year, likely owing to the existence of the cut-rate $99 iPhone 3G model.
During the quarter, Apple added many new carriers in several existing countries, including the UK. The iPhone also became available in more countries, most notably China. Apple now sells its phone in 86 countries, Oppenheimer said.
Cook said that Apple had activated more than 200,000 units in China since the end of October, but that at this time the company was more "focused on the quality of the point-of-sale and customer experience" in China, and "prefer[s] to move slow, because we're building the brand for the long term… we're very focused on the long term for that market." Cook said Apple is happy working with its Chinese wireless partner, China Unicom.
And the iPhone is "a runaway hit" in Japan, Cook said, citing statistics that iPhone sales are four times what they were in the year-ago quarter, and overall iPhone sales in the Asia-Pacific region are five times larger than in the year-ago quarter.
In response to a question from an analyst, Cook offered praise for often-criticized U.S. wireless partner AT&T. "AT&T is a great partner," he said. "In the vast majority of locations, we think iPhone customers are having a great experience… AT&T has acknowledged that they're having a few issues in some cities, and they have plans to address these. We have personally reviewed these plans, and we have high confidence [in them]."
Regarding Apple's acquisition of Quattro Wireless, a mobile advertising company, Cook said that Apple "look[s] forward to providing developers with a great opportunity for advertising," but that mobile advertising is currently "in its infancy."
iPod results
Not every product segment saw growth during the quarter. iPod sales fell 8 percent year-over-year, as Apple sold 21 million music players during the quarter. However, Oppenheimer characterized that decline as expected. Indeed, overall iPod sales growth has been flat for some time—sales have declined for three consecutive quarters now.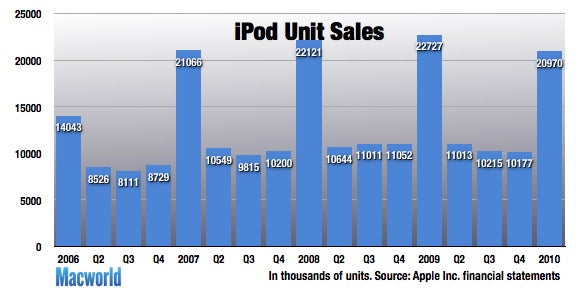 Still, Apple executives didn't sound particularly bothered on Monday by the iPod's quarterly performance. The music player continues to gain market share internationally, and its share of the U.S. market remains at more than 70 percent, according to Oppenheimer.
Instead, Apple is choosing to dwell on a strong performance by its higher-end—and more expensive—iPod touch. Oppenheimer said Apple sold 55 percent more iPod touches this year than it did in the first quarter of 2009. The average selling price of the iPod increased by 9 percent during the quarter, driven by sales of the touch.
Oppenheimer told analysts on Monday that the iTunes Store had enjoyed a "record-breaking quarter," though the company provided no revenue figures for its online retail arm for music, movies, TV programs, and mobile apps.
Retail and other figures
Apple finished the first quarter with 283 retail stores, after opening 10 new outlets during the quarter. Those openings included high-profile stores near the Louvre in Paris and New York's Upper West Side. Apple also remodeld 32 stores during the quarter, for a total of 100 remodels during the 2009 calendar year.
Retail revenue rose 17 percent to $1.97 billion for the quarter. Average revenue per store was $7.1 million, up from $7 million in the year-ago quarter. The brick-and-mortar stores sold a record 680,000 Macs, with half of those sold to customers who were new to the Mac.
Look for Apple to open between 40 and 50 stores during the 2010 fiscal year, Oppenheimer said, with half of those outlets located outside the U.S.
Speaking of international sales, they accounted for roughly 58 percent of Apple's revenue for the quarter.
Even after a quarter that saw Apple buy online music streaming company Lala, the company continues to sit on a big pile of cash. Apple's cash and short-term investments total $39.8 billion, according to Oppenheimer—that's up $5.8 billion from the previous quarter.
Apple's forecast
Looking ahead to the March quarter, Oppenheimer told analysts to expect sales between $11 billion and $11.4 billion. That compares to restated sales of $9.1 billion for the fiscal second quarter of 2009. Apple expects earnings between $2.06 and $2.18 per share for the upcoming quarter; that compares to $1.79 per quarter a year ago, after adjusting for the new accounting rules.
"The new products we are planning to release this year are very strong, starting this week with a major new product that we're really excited about," CEO Steve Jobs said in a statement accompanying Monday's earnings release.
Jobs was referring to Apple's Wednesday product event, where the company is widely expected to unveil a tablet or similar portable product. However, analysts looking for a hint of what to expect out of Monday's conference call probably came away disappointed.
"I wouldn't want to take away your joy of surprise on Wednesday when you see our latest creation," said Cook, deflecting an analyst question about the January 27 event.
Updated at 1:57 p.m. PT to include more data on Mac sales and to explain Apple's new accounting method. Updated at 2:35 p.m. to include more details from Apple's analyst call. Updated at 3:01 p.m. to include more detail on Mac, iPhone, and iPod sales. Updated at 3:24 p.m. to include information on Apple's retail and education sales. Updated at 4:30 p.m. to include more information on iPhone sales.