Editor's Note: The following article is reprinted from the Today @ PC World blog at PCWorld.com.
Pentax was quiet at CES this year, but that silence just ended with a bang.
Monday, the company announced three additions to its Optio point-and-shoot camera line, two of which offer the best-looking designs I've seen for a compact camera.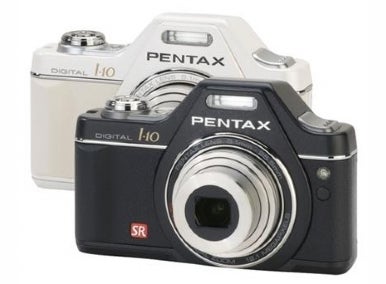 The 12-megapixel Optio I-10 ($300, due in February) sports a fashionable, old-school look akin to an SLR that has been blasted with a shrink ray, right down to its faux-leather front.
Its 5X-optical-zoom lens reaches from 28mm to 140mm, bolstered by both sensor-shifting and digital image stabilization. It also records 720p HD video at 30 frames per second, offers a 2.7-inch LCD screen, and can handle Eye-Fi cards. Ye olde Optio I-10 will be available in black and white.
Clear on the other side of the design spectrum—but still looking good—is the 12-megapixel Optio H90 ($180, due in February).
Its boxier, two-tone, Mondrian-inspired body comes in three color combinations: orange and silver, silver and white, or silver and black.
It has a lot of the same specs as the Optio I-10—including a 5X-optical-zoom lens (28mm to 140mm), a 2.7-inch LCD, 720p video capture at 30 fps, and Eye-Fi compatibility—but it offers digital image stabilization instead of the I-10's dual-stabilized system. Another difference is the zoom control, which is a thumb-operated bar on the back rather than a zoom ring.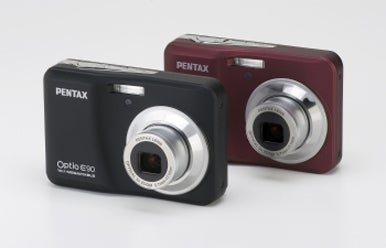 The third new Pentax camera doesn't have the same design flair, but its price is a head-turner.
The Optio E90 is just $100, and for that bargain-bin price it provides a 10-megapixel sensor, a 3X-optical-zoom lens (31.5mm to 94.5mm), standard-definition movie capture (640 by 480), AA-battery compatibility, and digital image stabilization. The Optio E90 is slated for a February release in black and (red) wine.