The puzzle game genre is fraught with variations on the "match-three" formula popularized by games like Bejeweled, so it's impressive that Block Fall developer Morphy Software managed to put an unexpected twist on such a familiar game.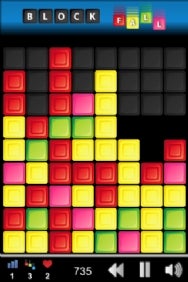 In Block Fall, you can tap away clusters of as many blocks as you want—but beware. You start the game with three lives (you can increase the number through high scoring), and each time you tap a group of blocks smaller than three, you lose a life. When you've used up those lives, more blocks fall, your lives are replenished, and you continue tapping blocks until they've all disappeared and you move on to a harder level. If the blocks reach the top of the screen, it's game over.
The levels are not set up to end cleanly, so there's a good chance you'll end up with a bunch of scattered single blocks and no choice but to tap each one until you run out of lives and another set falls. Luckily, if you manage to eradicate all of the blocks of a certain color, any new heaps of blocks won't include that color.
After a few rounds, it gets a little easier to strategize. If you carefully use your limited number of single and double blocks, you can create bigger groups to help you score some major points.
With 30 levels and three different difficulties, there's plenty of replay value for those looking for a challenge. Personally, I found even the first difficulty level to be brutal, so my hat is off to anyone who can complete the entire game. The only thing "easy" about the game is the ability to jump in and out of games when you're out of time or patience.
Though it takes quite of bit of concentration to play well, Block Fall is simple to understand yet challenging and original enough to stand out from other games like it.
[Meghann Myers is an editorial intern for Macworld.]