It's not always easy to get a perfectly level shot with an iPhone. Camera Level by Obvious Matter focuses only on helping you with that—and it does a good job of it.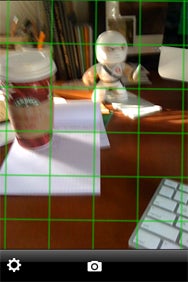 Camera Level is dead simple to use. The app launches directly into camera mode, looking almost identical to the iPhone's built-in Camera app. The difference? There are grid lines across the screen. The lines appear red when the camera image isn't level; tilt the camera, and they turn to green when everything's level.
Camera Level offers two main modes—the default is a grid line mode which adds a grid overlay to your entire screen, while a second mode features nothing more than a simple line across the bottom third of the screen. You can quickly switch between the two modes via a settings button just to the side of the shutter release button.
A calibration mode lets you re-calibrate the app's level easily enough. And while the iPhone 3GS introduced a touch-screen auto-focus feature, have no fear—Camera Level works just fine with that.
A number of iPhone photo apps—such as Snapture and Real Cam LE—include a level in addition to other features. So your appreciation of Camera Level will depend on whether you're looking for an app that delivers more than just a photo level. If you're just looking for a unitasker, then Camera Level's a fine choice—it's a simple, easy-to-use app that works as advertised.
[Macworld contributor Beau Colburn lives in Boston where posts some of his favorite iPhone photos at Snap Different.]