Editor's Note: The following article is reprinted from GamePro.com. For more gaming news, visit GamePro's news page.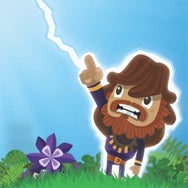 Ngmoco announced today that its next new iPhone game would be a god simulation made in collaboration with Wonderland Software.
The game, GodFinger, puts users in the role of a would-be deity. Using the iPhone's touch screen, players have to grow flowers, terraform a small planet, and ultimately win worshipers away from a panoply of other gods.
Here's how Ngmoco, which says the game will arrive on the App Store soon, describes GodFinger:
Pull on the gloves of a fledgling deity. You're in charge of your very own planet, and must flex your fingers if you're going to make a name for yourself amongst the pantheon of gods in this universe.

You'll need followers. Their worship will help you grow stronger, perform wonders and learn new abilities. You'll zap, flood and terraform. You'll create buildings to keep your followers busy; they'll give you gold. You'll exterminate skeletons. And for fun, you'll even torment your planet's denizens.
Wonderland Software is made up of developers who formerly worked at Lionhead Studios on their simulation games Black & White and Fable. The studio was founded just last year by Matthew Wiggins and Mark Rose—later adding Al Harding to the ranks.