MindManager users who've clamored for the Mac version of the mind-mapping application to work with Microsoft's Office programs should welcome the arrival of MindManager 8. The latest Mac-compatible version of the productivity tool from Mindjet arrived Tuesday, bringing integration with some key components of Microsoft's collection of office applications, among other notable additions.
MindManager is a brainstorming tool that allows users to map out ideas in a visual way across an expandable canvas. The application is used for everything from planning to organization to project management.
Integration with Microsoft software has been the top request from MindManager's Mac users, Mindjet vice president of products Neil Mendelson told Macworld. Indeed, a lack of Office integration on par with what Windows users enjoyed was a major criticism of the otherwise well-received MindManager 7 for the Mac.
So the latest version of MindManager tackles that request, adding integration with Word, PowerPoint, and Entourage. MindManager 8 users will be able to import Word documents into the brainstorm program. They can also export maps created with MindManager into Word and PowerPoint. And Entourage users can sync up events and tasks with MindManager.
Integration with Excel, Microsoft's spreadsheet application, is missing from MindManager's new-found compatibility with Office for the Mac. Mendelson says MindManager users were more interested in being able to incorporate documents and presentations in their mind maps, so that's where the company put its focus. "If [demand for Excel integration] should come up in the future, it would be a relatively straightforward thing to add," Mendelson said.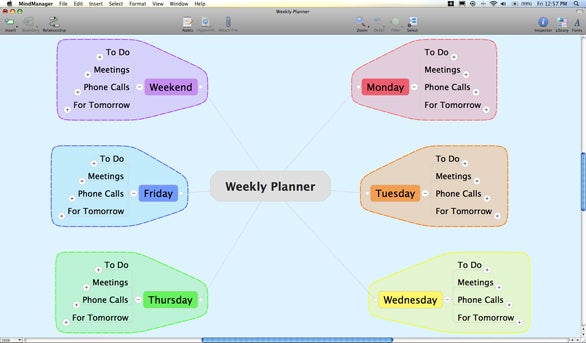 While Office integration is certainly a highlight of MindManager 8—particularly for Mac users of the application who work in cross-platform offices—it's by no means the only change in new release. Mac users are likely to embrace MindManager's newfound integration with other native Mac programs, including iCal, Address Book, and iWork.
Thanks to iCal integration, users can place calendar events and to-dos directly inside of mind maps in version 8. Changes to those events are bi-directional—update a to-do in MindManager, and it will also update in iCal.
"A lot of our customers have been asking for that," Mendelson said. "They want to be able to work and follow their schedules in an integrated way."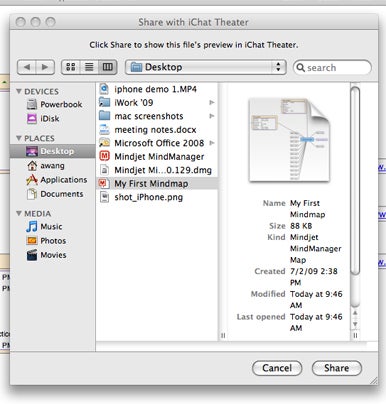 With Address Book integration, any contact stored on your Mac is now visible in a MindManager 8 map. The updated program also integrates with iChat, allowing users to pass maps directly through OS X's built-in messaging app.
MindManager 8 now offers iWork integration, allowing users to turn files from the suite's Pages document-layout app into maps. They'll also be able to export maps into Pages.
In another Mac friendly feature, the updated MindManager supports standard gestures on multitouch trackpads and Apple's Magic Mouse, so users can pinch and expand to zoom in and out of a map and scroll through a map with a three-finger roll.
Because of MindManager's graphical nature, users like to include images in their maps. Mendelson says that images used in MindManager 8 are now largely the same across platforms. "If you come up with a custom image, it's stored within the map itself," he added. "So you'll be able to work with the image cross-platform."
Other features in MindManager 8 include a built-in Web browser that lets users view Web pages, search results, and Google Docs files directly from within the mind-mapping program. Version 8 also incorporates new sharing features, including the ability to share maps via FaceBook, Twitter, or LinkedIn. In addition, MindManager's MindJet Player allows users to share maps in dynamic Adobe PDF and Adobe Flash formats, allowing for interactive content.
All those features "represent [MindManager's] next logical step up," Mendelson said. "[Version 8] contains a lot of things our customers had pointed out that needed augmentation."
MindManager 8 costs $249; existing users can upgrade for $129. If you're a MindManager 6 or 7 user who upgrades before February 28, 2010, however, the upgrade will cost just $99.
The new version of MindManager runs on Mac OS X 10.5 and 10.6.