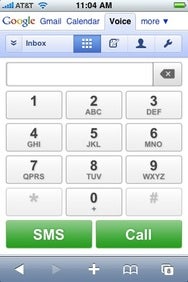 The first inkling we had that something was off between longtime friends Apple and Google came last July when Apple pulled existing third-party apps for Google's Voice service from the App Store. Six months later, Google's finally remedied the situation by adding a dash of HTML5 into Voice's Web interface.
On Tuesday, Google unveiled the snazzy new interface for Google Voice for the iPhone and Palm Pre. In addition to a mobile-optimized version of your Voice inbox, you can place calls using the service (including cheap international calls), send and get text messages, and play back voicemail messages. Your Voice number will show up as the caller ID, so people can call you back there instead of on your mobile number.
As Google points out in its tutorial video, it's a snap to add the Google Voice page to your iPhone's Home screen, which really turns it into a viable replacement for the iPhone's own phone service.
Of course, you'll still need a Google Voice account in order to take advantage of the new features, so if you don't have one yet, go ahead and request an invite. If you're wondering what all the hubbub about Google Voice is, be sure to check out our primer on the service.