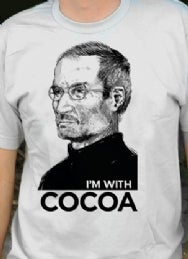 Looking for a way to combine your love of all things Apple with your disdain for the late-night TV wars of yesteryear last week? There's a shirt for that and it featuers artist and Apple fan Dwayne Clare's new "I'm With Cocoa" image.
Remember way back when Conan O'Brien was the host of The Tonight Show? You may even recall some sort of kerfuffle that sprung up, dividing this great nation—nay, the world—into two camps: Team Conan, and the other, wrong team.
During the Leno/O'Brien mess, artist Mike Mitchell created an iconic "I'm With Coco" poster, which paid homage to both the famous Barack Obama "Hope" poster and actor Tom Hanks's affectionate nickname for Conan.
Clare's I'm With Cocoa, available as a shirt or a poster, presents a stunning, hand-drawn image of Apple CEO Steve Jobs, while paying tribute to the the Cocoa API used to build much of OS X's software. Plus it parodies a parody—just the sort of disdainful meta-humor smug Apple fans (like us!) love.
So whether you love Letterman or Leno, or if you really do love Coco, you can publicly reflect your affection for Apple, Steve Jobs, puns, and general Mac nerdery. The shirts and posters will cost $19 plus another $6 for shipping, and will be available in early February.