Editor's Note: The following article is reprinted from the Hassle-Free PC blog at PCWorld.com.
Like several bazillion other users, I like using Facebook to keep tabs on what my friends are up to. What I don't like is the endless stream of "so-and-so took this quiz" and "Joe became friends with Jane" messages and "What Kind of Jedi Are You?" come-ons.
That's why I just became a fan of Facebook Purity, a browser add-on that removes those annoying quiz and application notifications from your Facebook home page. The effects are subtle—don't expect a major makeover—but definitely worthwhile.
Facebook Purity is actually a script that requires the Greasemonkey add-on for Firefox. Once you've installed that and restarted Firefox, just install the FP script, restart Firefox again, and fire up Facebook.
You may not notice any immediate changes, but you should see a FB Purity hid header, like the one highlighted below.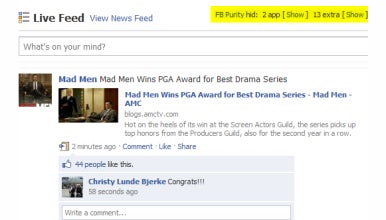 The tally refers to the number of Facebook apps and "extras" found and hidden from your home page. If you're curious to see what they are, just click Show for either category.
If you want to edit the list of apps and extras Facebook Purity blocks, see the developer's FAQ page. Speaking of which, the script is donationware, meaning it doesn't cost anything to use, but the developer sure would appreciate a few bucks if you find it useful. (Click the Donate button on his page to make a contribution via PayPal.)
By the way, Facebook Purity is compatible with Google Chrome, Opera, and Safari, but using Greasemonkey scripts with those browsers is a bit more complicated. Again, see the FAQ page for details.
Personally, I'm loving this add-on. Anything that cuts down Facebook clutter is a winner in my book.