Ah, Connect 4, the classic vertical board game. While it's simply "tick-tac-toe-plus-one" with checker pieces, the game has proven to be exceptionally popular. You can find Connect 4 being played everywhere from your den to the average hipster bar in Brooklyn.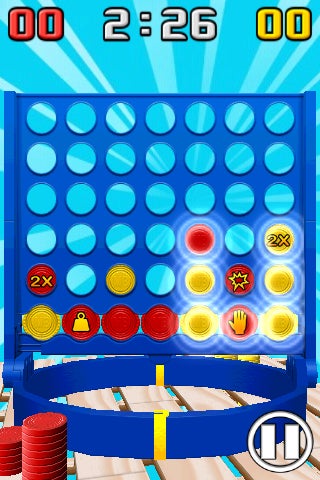 Now, for $3, Connect 4 can be found in your pocket. Gaming behemoth Electronic Arts has brought this Hasbro title to the iPhone, with slick 3D graphics, local multiplayer, and some fun new game types. The only thing missing is the satisfying plink feeling as the chips fall into place.
The classic game pits two opponents against each other in an attempt to line up chips in lines of four—diagonally, vertically or horizontally. The 3D graphics ran smoothly on my 3GS, and the three new modes of play add quite a bit to the game's variety. Max Score mode lets you play multiple matches within a set time, awarding points for every victory. Pop Out adds a bit more strategy to the game by allowing the player to remove chips from the bottom row, changing the placement of above chips. Meanwhile, Power Chip mode is similar to the Max Score mode; however, it includes four Power Chips with special attributes, changing the strategy of the game entirely. In addition to the three new ways to play, there is a Challenge Mode, which takes elements of all game types and creates interesting scenarios you have to complete.
All game types are available in the game's multiplayer modes. Connect 4 can be played locally side by side, so both players can pass the iPhone between turns, or face to face, flipping the board between turns so that players can face each other. Alternatively, Connect 4 can be played over Wi-Fi or Bluetooth, though no online multiplayer capability is supported.
EA did a great job adding new features to the game, but no matter how many bells and whistles you put on it, Connect 4 still gets boring after a few hours. Just like the real life board game, Connect 4 is most enjoyable when played with a friend.
[Dan Waingarten is a New York City based writer and contributor to Macworld.]