For users of recent versions of InDesign, the confusion over how to resize an image instead of cropping it evolves from two issues. First, selecting the image with the Selection tool (black arrow) actually selects the frame, not the image within it. Dragging a frame handle resizes the frame, not the image, thus cropping or adding blank space rather than resizing the image. Second and more importantly, InDesign CS3 and CS4 introduced a slight change in the way to simultaneously resize images and their frames, compared to previous versions.
That tiny change messed up a lot of users.
If you used any InDesign version up to and including CS2, you knew that in order to resize a graphic frame and the image it contained, you had to begin dragging one of the frame's handles and hold down the Command key while you dragged. As of CS3 that method no longer worked.
The change was when you press the Command key relative to dragging a frame handle. Prior to CS3, you could press Command at any time while dragging the handle. Now, you must press and hold the Command key before you begin dragging or you will not resize the frame. This subtle difference occasionally catches just about all longstanding users.
Fortunately, there are other ways to simultaneously resize an image and its frame—without using the Command key. In InDesign CS3 and CS4, you can use either the Scale or Free Transform tools to accomplish the same thing. Select either tool from the middle of the Tools panel, click on the graphic frame (with the black arrow key) to select it, and begin dragging a handle; both the frame and the image will scale simultaneously without the need to press the Command key.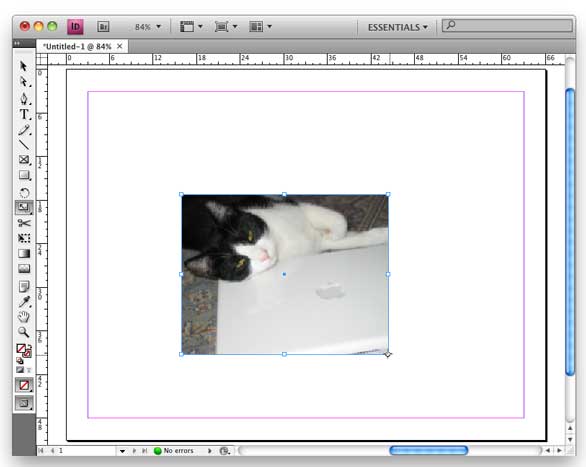 To maintain the image proportions as you scale, you'll still need to hold down the Shift key—but you can press it at any time before or after you begin dragging.
When you're happy with the size of the photo, immediately select another tool in the Tools panel so that you don't continue to resize or otherwise change the picture.
Also be aware that if you drastically enlarge a photo, it will start to look pixelated, so be sure to do the bulk of your image resizing in Photoshop, and confine your InDesign tweaks to smaller changes.
Pariah S. Burke is the author of Mastering InDesign CS3 for Print Design and Production (Sybex, 2007), and other books; a freelance graphic designer; and the publisher of the Web sites GurusUnleashed.com, WorkflowFreelance.com, and CreativesAre.com. Pariah lives in Portland, Ore.