Apple announced a new version of iWork designed specifically for the iPad tablet device the company unveiled on Wednesday. The iWork for iPad application suite broadens the potential target audience for the iPad, turning what might have been cast as consumer device into one that business users could embrace.
iWork is Apple's productivity software suite, which includes Keynote (presentation slides), Numbers (spreadsheets), and Pages (word processing). The new iWork for iPad suite takes advantage of the iPad's multitouch input; for example, slides in Keynote, columns in Numbers, and text and graphics in Pages can be rearranged by tapping and dragging your finger.
At Wednesday's event, Apple senior vice president for worldwide product marketing Phil Schiller demonstrated each app on the iPad. All of the iWork apps launch to a library of documents that allow you to tap on the document you want to open. An on-screen keyboard appears when you need to type text.
Keynote runs only in landscape mode, since slides are designed horizontally. You can create new presentations with a tap, which brings up templates for the presentation software. Menu items appear at the top of the screen, while a slide navigator shows up on the left—you can scroll by moving your finger along the slide navigator, tapping whatever slide you care to edit. In addition to rearranging and dragging individual slides with your finger, you can move multiple slides around by tapping and holding. The iPad version of Keynote also lets you select animations with a tap.
Pages has a new iPad tool called Page Navigator. Hold your finger on the right of the iPad's screen to brings up a loupe that lets you skim through your pages. Tapping and dragging images around the page-layout application automatically reflows text.
Numbers on the iPad offers a library of spreadsheets and templates. Thanks to a tabbed interface, one document can hold many spreadsheets. If you move a column to the end of the table—again, by tapping and dragging—Numbers automatically udates your linked chart.
According to Apple, the iWork for iPad apps can import iWork '09 and Microsoft Office documents. When creating documents in iWork for iPad, you can send documents in iWork '09 and PDF formats.
At the iPad event, Schiller said that iWork documents are synced between your Mac and the iPad using iTunes, but no other file-saving specifics were mentioned.
Apple says that the iPad will work with a Dock Connector to VGA adapter so you can connect the iPad to a projector and display Keynote slides on a screen during a meeting.
The iWork for iPad apps are $10 each and will be available at the iTunes App Store. The iPad is slated to ship at the end of March.
[Updated at 12 p.m. PT with more product information. Updated at 2:38 PT with more details on the three iWork apps.]
iPad (2010)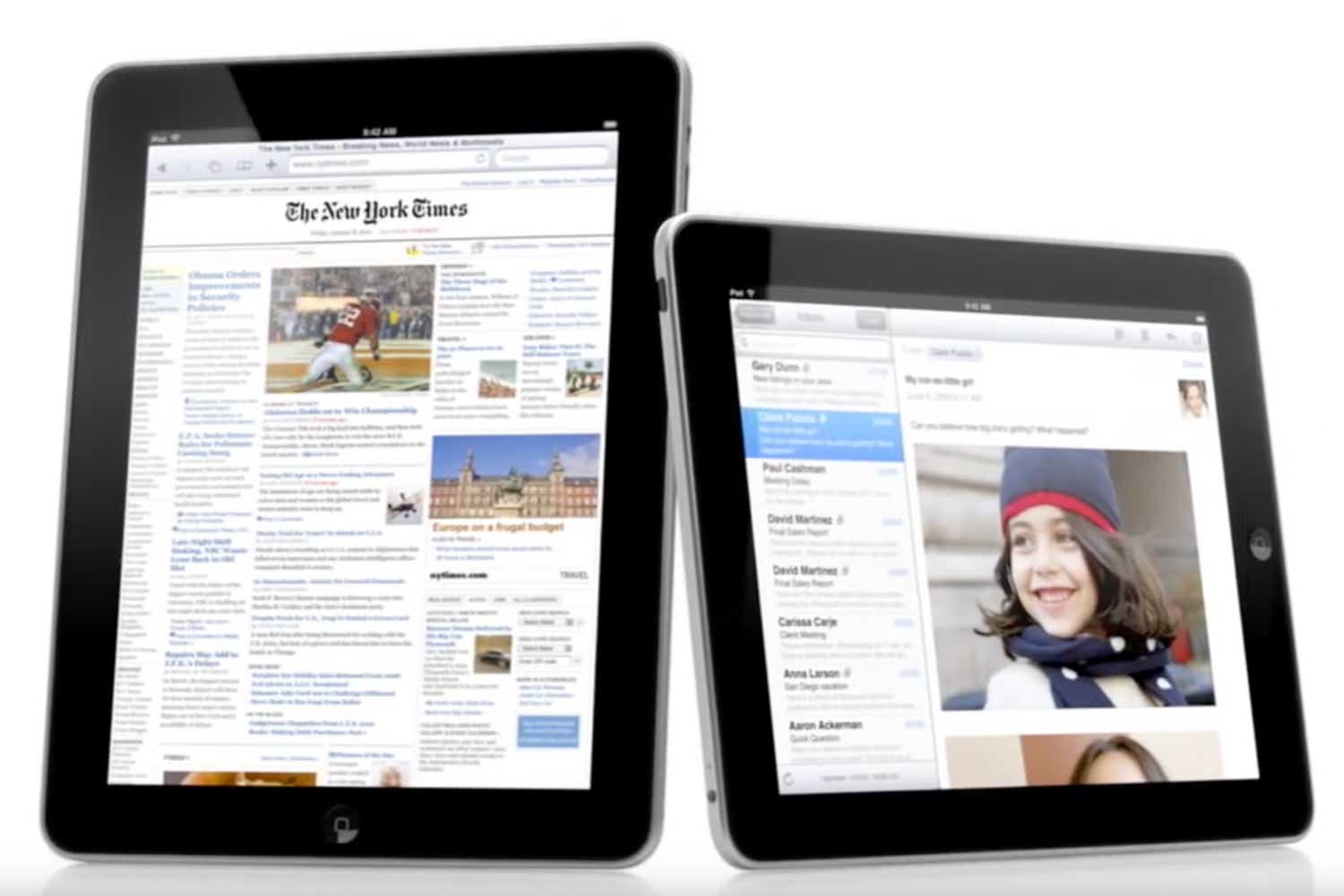 Read our full
iPad (2010) review