The "Apple tablet" is finally official, and it has a name: iPad. Though this super-sized iPod touch is largely what we expected, Apple's announcement included a number of nice surprises, as well as a couple bombshells. I'm not talking about those things we assumed would be true, such as a large screen and support for existing iPhone apps. I mean those features we hoped for, expecting disappointment, or those that caught us off guard. With an hour or so to contemplate the day's news, here are my five biggest/best revelations from Apple's big event (plus a bonus one).
The prices: Leading up to today's event, pricing rumors were all over the map, but most touted estimates in the range of $700 to $1000. So it was quite a shocker to learn that the iPad would start at just $499 for a 16GB Wi-Fi model. Let's put that in perspective: it's the same price as a 32GB iPod touch just two years ago, and only $200 more than the current 32GB touch, despite having a much larger screen, more powerful hardware, and more features. But perhaps the more telling comparison is that Amazon's similarly-size Kindle DX, with its non-color, non-touch-sensitive screen and much more limited functionality, is priced at $489. Unless you're a hardcore e-ink fan, the iPad seems like a relative bargain in comparison.
Of course, if you want to spend more, you can: $599 for a 32GB iPad or $699 for a 64GB model. And you can tack on $130 to any model to get 3G wireless support.
Pre-paid, no-contract, unlocked 3G: There were plenty of rumors about 3G wireless support, but the big surprise was the iPad's options for getting 3G service. Unlike the iPhone, where you're locked into a two-year contract at $30 a month, AT&T will offer two iPad data plans: $15 a month for 250MB of data, or $30 a month for unlimited data. The kicker? These are pre-paid, no-contract rates, and you can activate service at any time right from the iPad itself. So you can, say, enable 3G service before a big trip and cancel service when you get back.
Of course, these plans get you 3G service with AT&T—the mention of which drew audible groans from those in attendance at Apple's event. But the other part of the 3G surprise was that 3G iPad models will ship unlocked. Which means you should be able to plop in a SIM card for another GSM 3G network provider and avoid AT&T altogether, as well as use your US iPad overseas by buying a prepaid SIM card. (Update: It's actually a Micro SIM card, which not all providers currently offer.)
External keyboard support: Macworld editors have been aching for Bluetooth keyboard support on the iPhone since the first model was announced in January 2007. Despite the small screen on the iPhone and iPod touch, being able to use an external keyboard for "real" typing tasks would make the device much more useful, and even let us leave our laptops at home for some trips. Sadly, with each new version of the iPhone OS, we've been disappointed by this omission.
The iPad's huge screen—which has the potential to be great for working with email and text—and the announcement of iWork for iPad (see my next item) had several Macworld editors crossing their fingers that Apple wouldn't hold back on this obvious feature. This time around, Apple didn't disappoint. Not only will the company sell a dedicated Keyboard Dock, which holds the iPad upright while providing a full-size (but no-keypad) Apple aluminum keyboard, but the iPad will also work with standard Bluetooth keyboards. I am very, very pleased.
iWork for iPad: If the iPad really was just a big iPod touch, certain segments of the tech-buying public—business users and education, especially—may not have seriously considered purchasing it. But with the announcement of iWork for iPad, the iPad became a device that will also let you create, edit, and present Keynote presentations; work on spreadsheets and word-processing documents; and create newsletters and other basic page-layout documents. And support for Microsoft Office documents means you can import and work with Word, Excel, and PowerPoint files. It remains to be seen how well iWork for iPad handles these types of files, and what features it does and doesn't support, but with a real "office suite," a 9.7-inch screen, and the aforementioned support for external keyboards, the iPad is a much more capable tool than its smaller sibling—and for many people, possibly a laptop replacement.
ePub support: Most people expected the iPad to double as an e-book reader. But Apple's announcement that the iPad's iBooks e-reading app will support the ePub standard was big news. Adopted by the International Digital Publishing Forum (IDPF) as an open-standards-based format for digital books, ePub allows publishers to create books in a single format for distribution to various e-book resellers and for use on any device that supports ePub. With more and more publishers and hardware vendors adopting the ePub standard, this news means it will be easier for publishers—big and small—to make their e-books available for the iPad and other e-readers.
(Questions still remain, however: Will Apple apply FairPlay copy protection to books you purchase through the iBookstore? Will you be able to import unprotected ePub documents into the iBooks app? We'll be working on the answers to these questions going forward.)
Bonus surprise: the iPad name: OK, so "iPad" was on many lists of possible names, including my own. Nevertheless, it was a bit of a surprise. As I noted in that article, you could argue that iPad is too close to iPod, that it sounds a bit gaming-centric, and that popular TV parodies had tainted the name. On the other hand, I wrote: "[iPad is] a simple, tablet-inspired play on the known-everywhere-in-the-world iPod name. 'Pad' would be a good brand for a tablet-style device that lets you record and explore your creative ideas." In other words, iPad was obviously going to be a love/ hate name. But Apple went with it, and on the whole, I like it—it's already growing on me.
Updated 1/27/10, 3:11pm: Updated with information about Micro SIM card.
iPad (2010)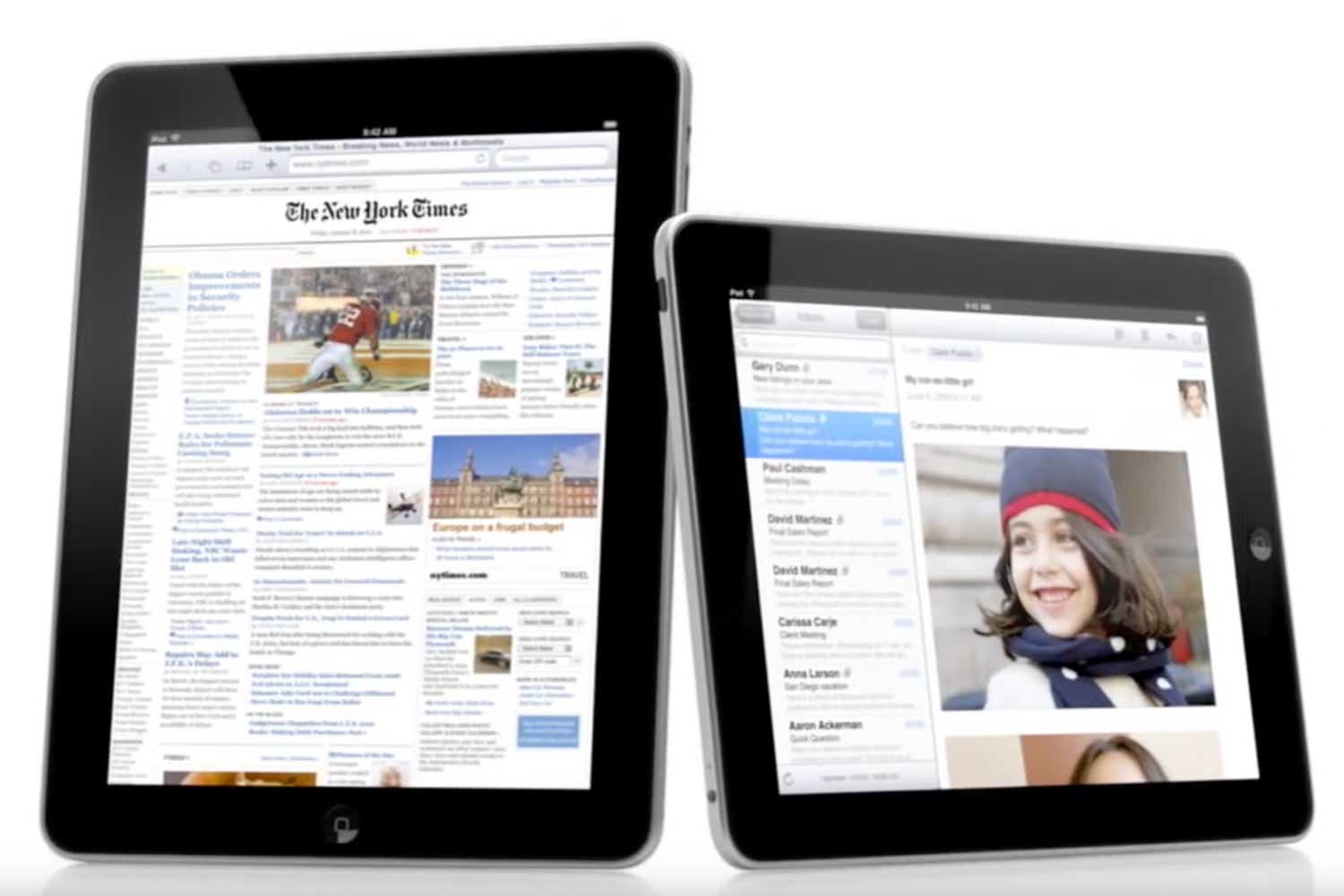 Read our full
iPad (2010) review