Need For Speed Shift, Electronic Art's $7 sequel to Need For Speed Undercover, is one heck of a racing game. Most impressively, it's not just an awesome street racing game for iPhone—it's an awesome street racing game period.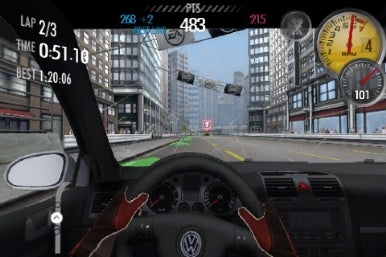 The first thing you'll notice when you launch Need For Speed Shift is the incredible visuals. EA's artwork in its iPhone sports titles continues to evolve and improve, but Need For Speed looks especially phenomenal. On my iPhone 3GS, animations are crisp and smooth, the cars themselves are beautifully rendered, and the intricate scenery you blaze past looks stellar. Of course, looks are only part of the battle. The key factor for any racing game is how well the cars handle.
I'm a sucker for steering wheel-based arcade driving games, and never loved the console d-pad as a driving mechanism. Mario Kart Wii's accelerometer-based steering works, but can feel a bit futzy on occasion. Need For Speed Shift's driving feels smooth and nuanced; tilting the iPhone to steer feels natural and effortless, and so far no other racing game for the iPhone has implemented the tilt control better. I found that Need For Speed responded well to both subtle and dramatic steering—with instant impact on the game.
Braking becomes intuitive—you simply tap and hold on the screen. You can customize your control scheme a bit by choosing what the game takes care of for you (in terms of steering assist or automatic shifting, for example). If you choose manual transmission, you up and down-shift with a single vertical swipe in the appropriate direction on the right side of the screen.
Some rarer controls are a little less seamless: The games forces you to swipe down with two fingers to pause the action, instead of offering a small tappable icon. I understand why, though. As you race, various status messages appear in different spots around the screen (bonuses earned, lap speed, current position), and it's nearly impossible to spot them all when you're going past 130 miles per hour. The one button you can tap while racing swaps the camera mode, which strikes me as an odd choice—it would seemingly work just as well on the settings screen. Camera mode will mostly be a matter of personal preference; I stuck with the dashboard view most of the time, because I like seeing the car's gauges, and the visual impact of cracks (and worse!) in the glass after rather, ahem, aggressive driving. Other camera modes shift perspective so that you see only the hood of the car, the entire car, or an unimpeded view of the road ahead.
Need For Speed Shift includes a nice tutorial mode that very quickly gets you comfortable. Once I started racing through the mean—or at least windy—streets of Chicago, I got off to a great start, but soon couldn't defeat newer challenges as they came up. I soon realized that my wheels (the starter Volkswagen Golf GTI) needed serious souping up to stay competitive. As you win races, you earn cash that you can spend on upgrading your car, or buying new one, and you won't get far in the game without doing so strategically.
Once you've raced through all the courses in Chicago, you can unlock levels in London and Tokyo. Each locale has its own unique look. Cleverly, the game's 18 tracks provide extra replayability, because you'll want to repeat most of them to unlock more achievements (fastest lap time, stay in first place for an entire lap, etc.). The game rewards you for both driving accuracy and aggressiveness, and the more you score, the more cars you'll unlock. Twenty different models are available, including the BMW M3 GT2 and the Lamborghini Gallardo.
The game's soundtrack is pretty rocking, and you can also choose to play your own music against the game's sound effects, leading to interesting results: You might think high-speed street-racing to, say, the jazz-infused piano rock of Julian Velard would be an odd combination, and you might be right. The engine and road sounds are good (and apparently individually accurate per vehicle), but that much grinding motor noise grew tiresome to my ears, so I ended up adjusting the volume settings to keep the effects quieter.
Need For Speed Shift supports both Bluetooth and Wi-Fi multiplayer, the former with up to 4 players and the latter with a maximum of two. I was only able to test Wi-Fi mode, and it worked well.
My only complaints about the game are admittedly nitpicky, and relate mostly to the menu options. They're not always clearly labelled, and can be a bit tedious to navigate—especially because sometimes they don't seem to respond to my first, second, or third tap (even though they visually highlight in response to my touch). The other big bummer, not too surprisingly, is that extended playtime can be a serious battery drain. And given Need For Speed's overall excellence, extended playtime is to be expected.
[Lex Friedman believes speed limits are suggestions.]