If you thought there could be no social network more time-consuming than Facebook, you were wrong. Onverse, launched in beta last June, brings social networking into 3D, then spices it up with avatars, interior decorating, and mini games you can play against your friends. Best of all, it's completely free for Mac users to download.
Designer Steve Pierce, a Sony Online Entertainment design manager behind EverQuest II, brought Onverse to life with four other artists and engineers on a "shoe-string budget", creating a virtual world that he describes as "much more of a game environment than many of our chat-only competitors."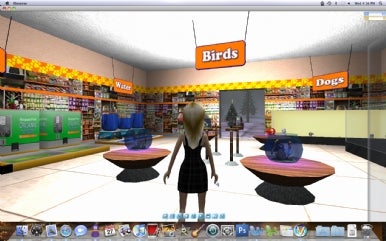 The version 0.6 software is downloadable for free at Onverse.com, where players can create avatars, fill out their profiles, and search for friends to add. Because Pierce's background is in MMO (massively multiplayer online) development, Onverse is designed to appeal to experienced gamers, but it is also intuitive enough for the uninitiated.
Once a player launches the game, they can teleport around the universe to pick out housing in a community where your neighbors are other players. Judging by how difficult it is to find a free, available apartment, it's safe to say that Onverse is already heavily populated.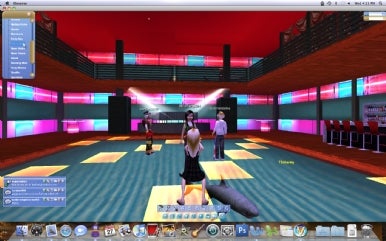 Released on November 25th, the latest update added a third "world" that augments the real estate available to new users. The Hub is Onverse's main drag, with a few high-rise apartment buildings, a casino, a nightclub, an amphitheater, and plenty of stores to shop in. Meanwhile, Volcano Island and Ancient Moon are home to themed housing communities as well as a few outdoor sites to spend time in.
All of these worlds are scattered with points that players can collect to use as currency to buy things like furniture, clothing, and tools. For those willing to spend some actual money, Cash Coins can be purchased through the Onverse website to spend on mansions or "premium" clothing and pets.
What makes Onverse unique from other online virtual worlds is the ability to play mini games against fellow users, in addition to the general chatting and avatar development of its competitors.
Though more are in development, the first game available is IceFall, a giant last-man-standing snowball fight. You enter the IceFall area of the The Hub and introduce yourself to a giant snowman that arranges live games with other players. You jump around on rapidly crashing ice flows, trying to knock other players off with snowballs. Not only is IceFall challenging and a good place to practice your mastery of the controls, it's also a great opportunity to make friends.
Pierce's team developed Onverse using the cross-platform Torque Game Engine, putting it on the short list of MMO's available to Mac users. The only real hitch comes down to the Mac mouse—Onverse requires two-button functionality while the Mac mouse is designed for one. Holding control and clicking the mouse will replicate the effects of right clicking, adding maybe an additional second's worth of work.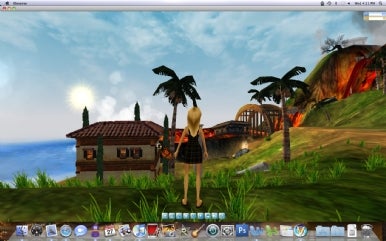 For those new to this sort of online gaming, there is a massive tutorial to teach players how to use the controls, find friends, look for points, and so on. This "Learning Center" is its own world in the game, so should you ever need a refresher, you can go back and practice at any time.
Onverse's developers also purposely created the software with low specs, so that less powerful computers and average Internet connections could have the same gaming experience as those with more advanced equipment. The graphics are not as sharp as popular online virtual worlds like Second Life, but that's to be expected from a beta program from such a small company.
Onverse is such a new concept that the developers are literally making it up as they go along, but the rapid development during the past six months in beta suggests great things for its official launch. According to Steve Pierce, they're hoping to launch at two more major updates in the next few months, leading up to the official launch, slated for April 15th.
[Meghann Myers is an editorial intern for Macworld]