Byte Squared has released Office2, an office app for the iPhone and iPod ouch that lets you edit Word documents and Excel spreadsheets in .doc and .xls formats. (Note that the app's name is pronounced "Office Squared," and that the "2" appears as a superscript when you're searching for it on the App Store.)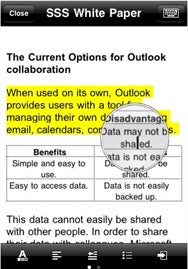 Office2 also provides integration with Google Docs, letting you edit Google Docs documents and spreadsheets from within the app. You can also access, move, and delete documents stored in Google Docs, iDisk and any WebDAV server.
The Office2 word processor lets you view, create, edit and save documents in Word 97-2003 (.doc) format. It also supports character formatting, tables, images, searching of text within documents, undo and redo up to 100 undo levels, and auto-correction and auto-completion.
The Office2 spreadsheet works with Excel 97-2003 (.xls) and handles multiple worksheets with unlimited rows and columns, searching and sorting of cells, cell formatting, cell types, and pane freezing among other spreadsheet necessities. Office2 uses the iPhone's touch screen effectively, letting you tap and drag to change row heights and column widths, and tap cells to compose formulas.
Those of you cringing at the thought of doing any sort of document or spreadsheet work on an iPhone or iPod touch will probably do best avoiding this app—or hold out for an iPad and its customized version of the iWork apps—but for those who often need to review and edit documents and spreadsheets while on the go, this app could make life easier.