Apple's iPad tablet could be an attractive business tool, but it lacks security and manageability features that enterprises need, analysts said on Wednesday.
Apple's new iPad is a handheld device that is designed for browsing the Internet, playing games, reading e-books and viewing video content. It fills a product hole between the iPhone smartphone and MacBook laptop, said Apple CEO Steve Jobs at a press event on Wednesday.
Priced starting at $499, the device may have a broad appeal that could bring it into enterprise environments, analysts said. However, it could create a new set of challenges for IT departments.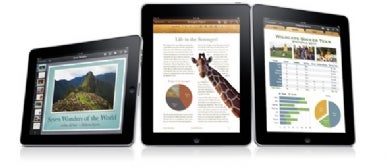 Apple offers a customized version of the iWork suite for the iPad, which includes word processing, spreadsheet and presentation applications priced at $10 each. The iPad also includes the Safari browser, which can be an effective client for Web-based applications.
However, the device has limited manageability and security features, which could be a concern for enterprises looking to manage the device remotely, analysts said.
For example, if the device gets stolen, there is no way for IT administrators to deploy a push policy that locks it, said Chris Hazelton, research director for mobile and wireless technologies at The 451 Group. That feature is available on the iPhone, and it could be implemented in the iPad over time if enterprise use of the product grows.
It also lacks support for features like VPN (virtual private networks) or push e-mail. Because the iPad doesn't support Microsoft Exchange, it may be difficult for IT administrators to manage e-mail on the devices, Hazelton said.
But third-party vendors like Sybase or Mobile Iron may deliver enterprise applications for the product, which could oblige Apple to step up its focus on security and enterprise readiness of the device, Hazelton said.
Software for the iPad can be downloaded through the App Store, but that doesn't provide for applications to be deployed in a uniform way across an enterprise, said Charles King, principal analyst at Pund-IT. That could result in different versions of software being deployed across different devices.
"If [companies] are going to have their employees commit to an application, they have to make sure it is readily available," King said.
Apple's App Store is a proprietary software distribution model that enterprises resist as it doesn't support volume purchases, among other things. That could have a negative effect on iPad's enterprise adoption, King said. "I don't see a whole lot here that would interest the enterprise in the short term," he added.
But over the long term, the device could find its way into the enterprise.
The iPad could be attractive for mobile workers who need large, portable touch screens, analysts said. Salespeople may be able to leverage the iPad's rich graphics capabilities to make presentations, Hazelton said. It could also be attractive in sectors like real estate, where strong visuals are critical for product sales.
The iPad's enterprise effectiveness is questionable, but that may not stop employees from bringing the device to work as an alternative to the MacBook or iPhone, said Ted Schadler, an analyst at Forrester Research. The device's support for iWork could allow business users to leave tablets at home, while the iPad's browser functionality would be better than the iPhone.
And like the iPhone, if iPads make employees successful at their jobs, the devices could be permitted in enterprises, Schadler said.
At the same time, Apple is making progress on security and encryption features in its mobile devices, which it could deploy through software and hardware upgrades.
This article was corrected at 10:13 p.m. PT to note that iWork is not include with the iPad.