In the 24 hours since Apple announced the iPad, a number of veteran vendors of laptop bags and sleeves have announced new products specifically for protecting Apple's new tablet; others have confirmed compatibility with existing bags.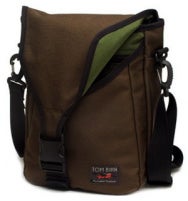 Bagmaker Tom Bihn on Wednesday introduced two iPad-specific products. The $110 Ristretto for iPad is a vertical messenger bag with a padded compartment for your iPad (or a Kindle DX or a 10-inch netbook) and plenty of storage for other gadgets and belongings. The $30 Cache is a padded sleeve for carrying your iPad inside another bag; it fits a bare iPad or an iPad in Apple's official case.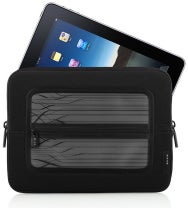 Accessory vendor Belkin on Thursday announced a trio of protective iPad sleeves. The $30 Grip Sleeve for iPad is a neoprene sleeve with a textured surface and a large, silicone panel for a better grip; a rigid panel protects the iPad's screen. The $40 Vue Sleeve for iPad, also made of neoprene with a rigid panel, features a zippered, see-through external pocket for storing a few accessories. The $40 neoprene Max Sleeve for iPad uses a pleated design that expands to hold accessories inside the sleeve itself; the Max Sleeve also provides a rigid, screen-protector panel.
Belkin also announced the $20 Screen Overlay for iPad, a transparent, protective film for the iPad's screen. (Information about the Screen Overlay was not yet available on the Belkin Website when this article was published.)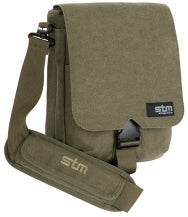 Though STM hasn't debuted any iPad-specific products, the company announced that the iPad "fits perfectly inside" the company's existing extra-small bags, the Scout Extra Small shoulder bag, the Micro Extra Small shoulder bag, and the Glove Extra Small sleeve.