Before Apple released the iPhone 3GS in June 2009, countless users lamented the lack of video capability on their phones. For those who could afford to upgrade to Apple's latest phone, problem solved. But for those who could not or did not? Laan Labs' iVideoCamera app for the iPhone offers a solution, albeit an imperfect one.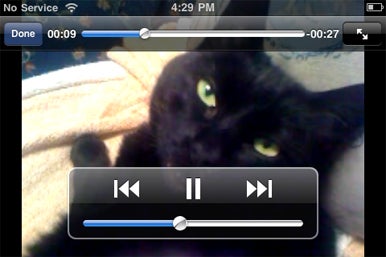 iVideoCamera lends video capability to any iPhone, even first-generation devices. To be clear, if you have an iPhone 3GS, you do not need this application. (Some users claim there are superior video camera apps available for jailbroken phones, but I wouldn't know so I can't vouch for them.) The app lets you shoot short videos, save the clips to your phone's camera roll, and export the videos to YouTube, Facebook, Twitter, and Vimeo, among others. The latest version of iVideoCamera also lets you e-mail clips to friends or upload your videos wirelessly via file transfer protocol.
The new release of the iVideoCamera app is a marked improvement over version 1.0. The older app's drawbacks were obvious almost immediately: A poor frame-rate of 3 frames per second; lousy resolution (160×213 pixels); so-so sound; and limitations on format (QuickTime only) and length (no more than a minute of footage). In other words, no better or worse than your garden-variety cell phone video.
Version 1.1 records at 10 frames per second (still nothing to write home about); offers resolution up to 320×426 pixels and up to 15 minutes of recording time (on the lowest resolution setting, alas); and provides better video management. Is that great? Of course not. By way of comparison, the iPhone 3GS captures video at 30 frames per second, up to 640×480 pixels, and supports several different formats, including mv4, mp4, mov, and MPEG-4.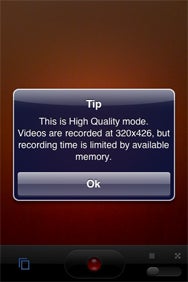 iVideoCamera works best if you have ample free-space on your iPhone. The app's high-quality mode eats memory fast. When you switch modes, the app warns that recording time is limited by available memory. No kidding: I got 28 seconds of my cat looking annoyed before the recording stopped. And although this clearly isn't an app for videographers, "high-quality" is a subjective term with iVideoCamera. It's better than "low-quality," but those 10 frames per second will foil you every time.
So what are the app's virtues? For some users—especially first-generation iPhone users—any video will be better than no video at all. Exporting video is remarkably simple, especially for Twitter and Facebook users. You simply enter your username and password, tap a button and wait for the video to upload.
That said, one way of exporting video simply does not work. Although you can import your videos through iPhoto when you sync your device, the videos will not play. I tried it with iMovie and QuickTime player. What you get is a green pixilated screen that won't play.
Bottom line: iVideoCamera gives iPhone users the video capability they wouldn't otherwise have, but certainly not the quality of video they could expect from an iPhone 3GS. If something is better than nothing, then iVideoCamera at least meets that minimum standard.
[Ben Boychuk is a columnist and freelance writer in Rialto, Calif. Feel free to e-mail him.]